Once your LTL, Parcel, and FTL loads are booked, the shipment details page offers a great snapshot of all your details and additional options. You can access these from your Shipments Page by clicking any load tile, thus opening a slider, and from there selecting "More detail/options'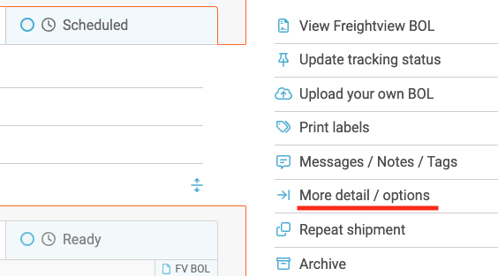 Here is what your shipment details page should look like: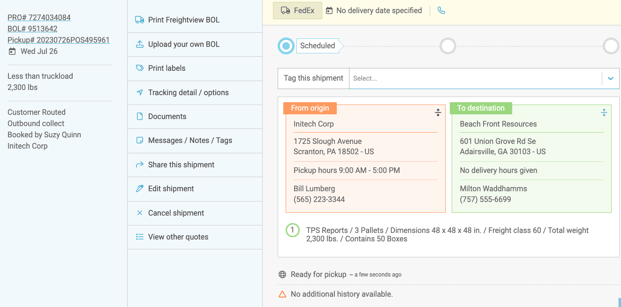 The panel on the left is a quick summary of your shipment data, including confirmation numbers, which you can edit/update at any time. In the middle is a list of links you can click on to investigate or edit a shipment's details. Below is a line-by-line breakdown.

Print the Freightview BOL, Carrier BOL, and Labels: Click these links to generate your paperwork. Uploaded Branding, Preassigned PRO barcodes, and Label settings are also available.
Tracking Detail/options: This opens a slider with a snapshot of your tracking updates, as well as the ability to manually edit info by selecting Edit PRO or Update tracking status.
From here you can also Share this shipment to an email address or click External tracking to go out to the carrier site for more info.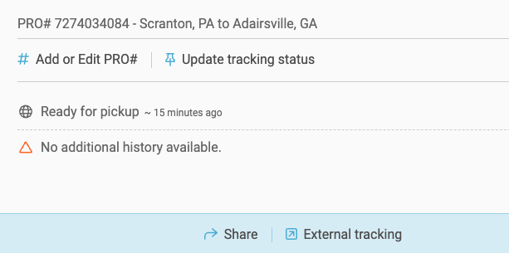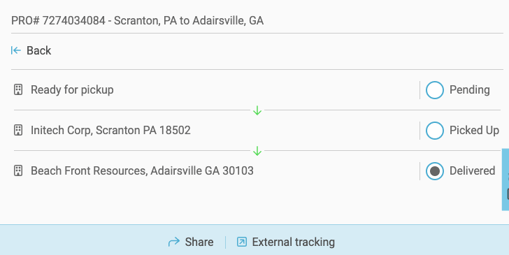 Documents: Depending on the carrier, this tab can offer up to fourteen automatic API docs from our LTL partners. These include signed BOLs, PODs, WICs, and Invoices. You can also add any additional to help keep your team organized through the Upload Feature.
Messages/Notes/Tags: Follow your shipment life cycle step by step. Messages are the comms between you and your spot quote carrier, Notes are both API updates and manual user entry - which appear on the auditing export. Finally, Tags are here to mark loads for custom filters/reports.

Share this shipment: Click here to enter the email address of any Followers you want to share the shipment page with. You can select any or no documents to attach as well, please note this link is a scaled-down version of the details page, where sensitive data, features, and pricing are not included.
Select new rate: This takes you back to the Rates page if you need to change the carrier on your shipment. From there you can rebook the load - please be aware of any banners that might indicate additional steps needed.
Create return shipment: This will re-run your original quote in reverse order, you can select the same carrier or choose a new one.
Report a Missed pick-up: Report a missed pick-up issue in-app. After speaking with your carrier, if you determined a possible API failure, submit this form for our team to investigate.
Cancel shipment: Need to cancel a pickup? Easy enough. Utilize this button. We'll still keep the shipment information in Freightview but it'll be labeled appropriately. Please be sure to look out for any banners that may populate indicating an additional step.
View other quotes: Using this button will help you see the other quotes for this shipment that you did not select. You can also view the rate breakdown and terminal contact info.

We hope you find this helpful, please contact our Support Team with any questions or feedback.