You may have noticed something a little different on your shipment page within Freightview.

You now have the capability to enter custom tags on your shipments. A tag is simply a label than can be applied to different shipments.
What should I use tags for?
You can use a tag for whatever your heart desires, but some of common reasons we created this function was to mark shipments with cargo claims or rate discrepancies. We're really excited to see how you choose to utilize the tags feature.
It's important to note that we will store previously used tags, so you should avoid entering individualistic reference numbers as tags. If you need a specific, unique, reference number you can search by you can always change your BOL number or you can enter those reference numbers on the booking page, under each location.
How do I tag my shipment?

You can add multiple tags per shipment. Just begin typing in the box and hit enter when you've completed your desired tag. To remove a tag you simply click the "x" to the right of the tag. When you begin to search for a tag your previously used tags will auto populate in the dropdown. You can select those by clicking on the tag in the dropdown. This should help to avoid creating unnecessary duplicates.
How do I look at my tagged shipments?
Finding your tagged shipments is super easy. Head over to your shipments page, and take advantage of the shipment filters.
If you have used tags, you'll see a new filtering option.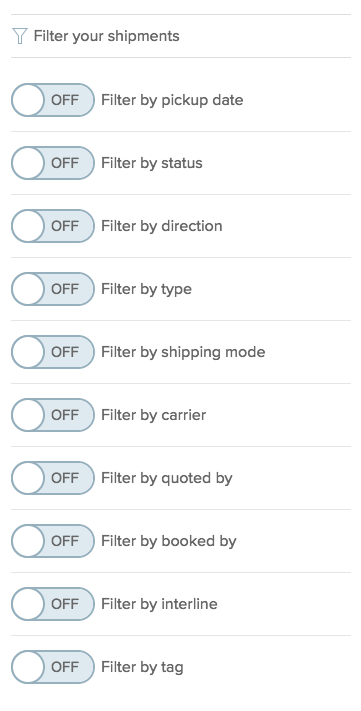 This will allow you search specific tags. You can also search for multiple tags at once, and narrow your search down even further using the other filters which you can learn about in a previous post outlining shipments filters
We are so excited to see what you do with this feature. As always, we'll be waiting near our computers for your questions or suggestions.
Take advantage of all Freightview has to offer. Sign up for a free trial now.