New Feature Alert: Freightview Carrier
The Freightview spot quoting tool has been available and helping shippers since the summer of 2017. Our spot quoting tool is great for shippers big and small. If you're not yet utilizing the tool, and would like to add it to your account, please reach out to our support team to add it to your account.
But now, we're rolling out a carrier portal-- which will be valuable for shippers and carriers alike.
Freightview Carrier is an easy way for carriers to manage every spot quote and shipment they're attached to via Freightview. Your spot quote carriers will now have the ability to give you tracking updates and those updates will appear in Freightview.
What Can Carriers Do In The Portal?
View and provide quotes
View and manage your active shipments
Communicate with shippers
Updating tracking statuses
Upload BOL
If you want a complete video walkthrough of the portal you can view it here:
The rest of this post details the major functionality available within Freightview Carrier and will serve as in instructional guide to your carrier representatives.
View and provide quotes

You will find new quotes under "Opportunities." View who the quote is from, when they need it picked up and delivered, where the shipment originates and is destined for, , what freight is being picked up, which equipment type is needed, and any additional notes from the shipper.
From here you can send a message back to the shipper, decline to quote, or bid on the load.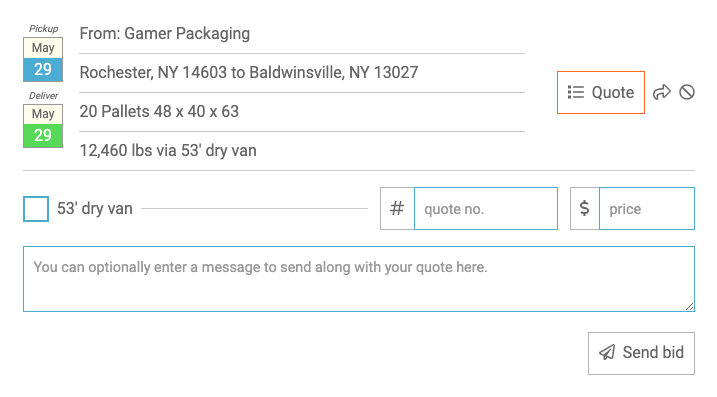 After you send a bid, the quote will be moved to the "currently quoting" queue.
When looking in that queue, you can see whether you are the lowest bidder on the load or not. This gives you an opportunity to sharpen your pencil and be more competitive if need be.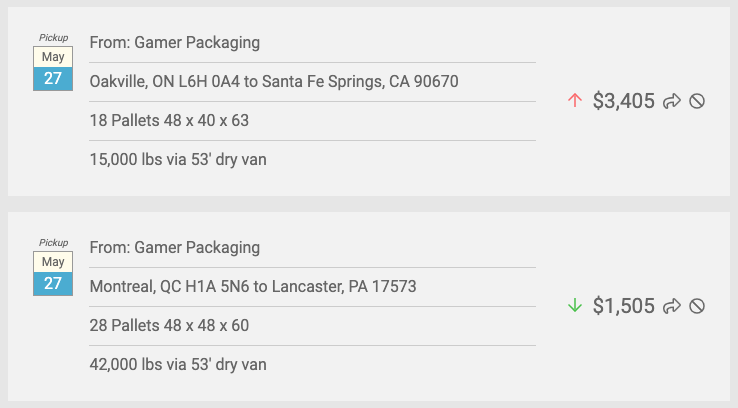 A green up arrow indicates you are the lowest bidder, a red up arrow indicates that you are not.
Do you want to share the opportunity with one of your colleagues?
You can forward the quote to be bid on or visible by one of your colleagues.

The quote will be available in both accounts.
Manage and view your active shipments
Once you've been awarded a shipment you can confirm the pickup via Freightview Carrier under the "Shipments won" tab.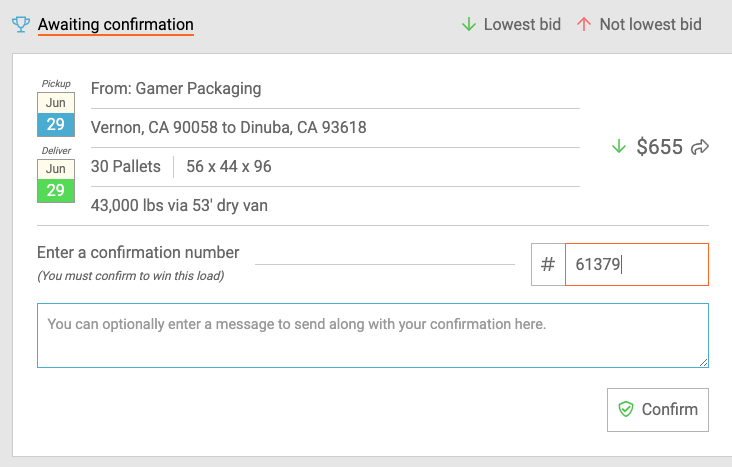 Entering the pickup confirmation number lets the shipper know you accept the award, and can still move the freight.
Communicate with shippers, update tracking information, and upload BOLs
Once the load has been confirmed, the shipment will move to your "Active shipments" queue. From here you can view the shipment details and Bill of Lading (if one has been provided by the shipper) or upload your own BOL. You can also update the tracking information as the load is picked up and delivered.

To view the full information shipment information (addresses, contact info, shippers #s, etc) you will click the 'Upload BOL" button.
This portal will hold every quote and shipment sent to you via Freightview from each shipper you work with.
Search Freightview Carrier
You can search by company name, quote number, shipper reference number, or purchase order number.

This will search through all quotes/shipments-- whether they are an opportunity, an ongoing quote, or an active shipment.
How do I get access to Freightview Carrier?
Now that the portal is live, you will get an emailed registration link with the next quote request submitted to you by your Freightview shippers.
We know that Freightview Carrier will be greatly beneficial to both our shippers and the carriers they've come to rely on.
---
Are you a shipper who wants to be able to manage all your shipments in one platform?