Parcel functionality is here. Quote, book, and track your parcel shipments alongside LTL, Spot Quote, and Truckload.
Compare your parcel rates between UPS and FedEx
Generate labels for parcel shipments
Track # of shipments, spend, and other analytics
Ship LTL and parcel all on one platform
Select 3rd Party Bill To
How do I add a parcel carrier to my account?
Existing customers can reach out to our team to request the product be turned on, Contact Us
You then add your parcel carrier similarly to how you added your LTL carriers. Select UPS or FedEx, and click the green checkmark to indicate Parcel.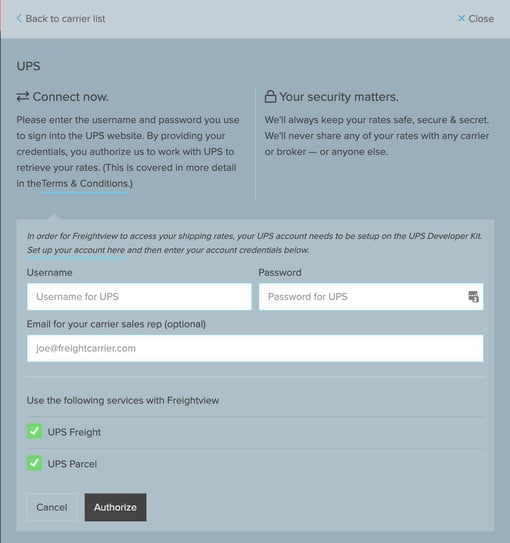 Parcel Quoting
Once your carrier is connected, you'll click the same Quote icon to get started, but now the Parcel option is available.

Your screen will refresh to the Parcel format; fill out your quote data accordingly.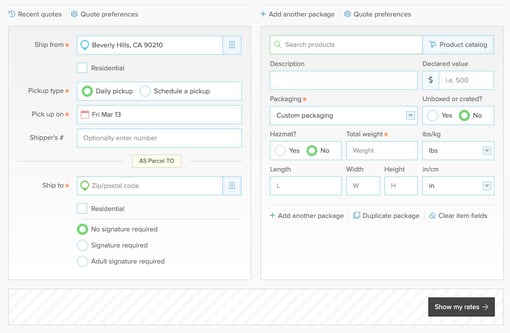 - If you choose "Daily pickup" a dispatch will NOT be sent to the carrier.
- Choosing "Schedule a pickup" will do exactly as it says once the shipment is completed.
You will also have access to your Product Catalog and Quote Preferences, which we will keep separately under LTL or Parcel. (Product Catatlog)

Once your quote form is filled out, click Show my rates →

Your Rates Page will load the same as your LTL, with your options auto-sorting by price and with tools such as Rate Breakdown.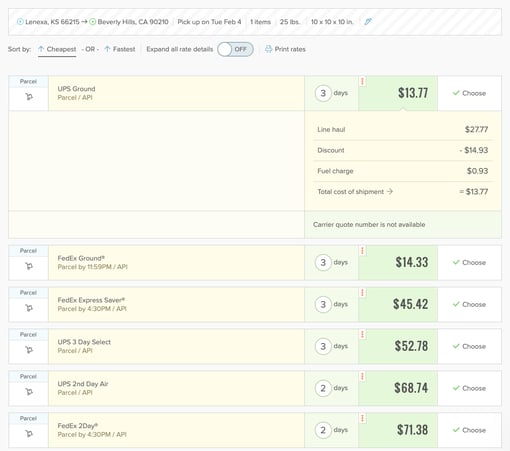 Once you choose a rate, it's on the booking page.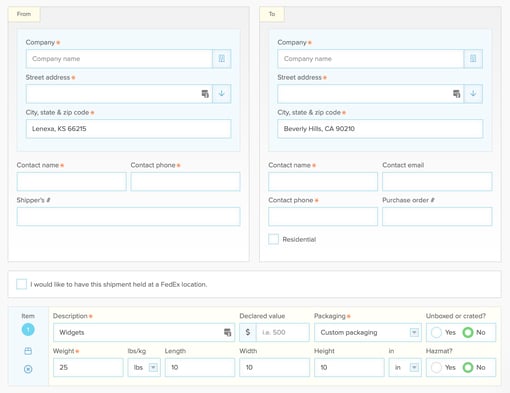 This should look pretty familiar, but if you choose a rate with FedEx, you have the additional options for FedEx ShipAlert® notifications.

And finally, the last optional field is the ability to share your shipment. You can enter the email address of whomever you want to share labels and tracking information.

Need to ship 3rd Party, we've got you:
On the Quote page - under Ship-To, select "Bill recipient/3rd party"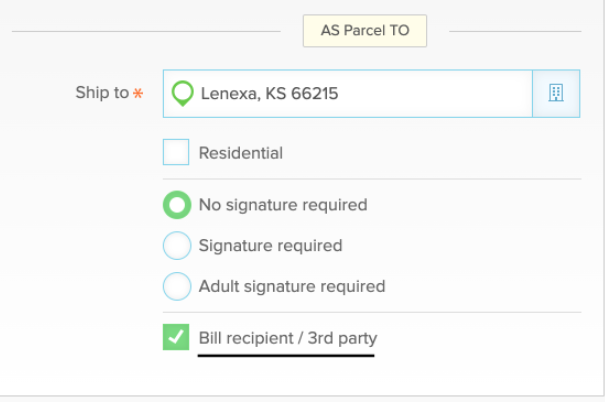 Fill out your quote details, hit Show my rates, and choose the carrier/service level needed, you will see the top of the page now look like this:

You will choose who you are billing, service level, pickup date, account to be billed to, and billing postal code. Select Book this shipment to complete the load, create labels, etc.
It is important to note that while this shipment's information will be sent to the carrier, a pickup will not be scheduled. Currently, 3rd party and recipient billed parcel shipments in Freightview can only be made when selecting the "Daily pickup" option on the quote screen.
Do you want to see a live look at how the functionality works, Watch our webinar recording here:
Are you ready to start using parcel functionality within Freightview? Reach out to our support team by email to get started.
Not utilizing Freightview yet?