Another customer request delivered. Saving a quote creates an easy way for one user to quote a load & select a carrier, then another user can come in and complete the process once the order is ready or sold. All you'll need is a reference number.
After you run a quote and get to the Rates page, select the Star next to the carrier rate/service level you want to save.

From here, enter a reference, order, or PO number in order to catalog the rate onto the Saved queue.

Click Save and your Rate is moved to the Saved Quotes queue located on the In Process list.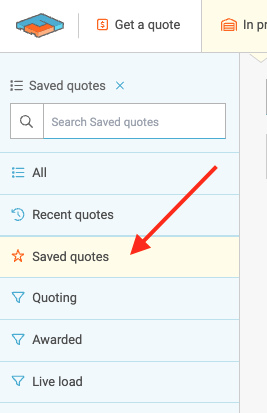 From here you can see a complete list of your saved quotes, and search by the reference number that was assigned.
When you select your saved quote, it will take you to the booking page with the carrier that was pre-selected. From here you'll just complete filling out your BOL and schedule as normal.
We will keep your saved quotes for up to 90 days. Past that, it's probably a good idea to just run a new rate, anyway. Once your shipment is booked, it will fall out of your saved quotes queue.
Make your shipping process easier by consolidating all your steps into one, intuitive platform. Try us for free and see what Freightview has to offer