Vericom Global Solutions Drastically Streamlines its Shipping Process With Freightview [Case Study]
Aaron Kelley, operations manager for Vericom Global Solutions, says timely and efficient shipping "absolutely affects the bottom line." For Kelley, that efficiency suffered from having to compare shipping rates for every shipment using up to 10 different carriers' websites.
This was unacceptable to Kelley. Between the company's San Diego and Knoxville distribution centers, he's ultimately responsible for about 2,000 shipments a month.
"Sometimes it can be crunch time to get things off the dock and out the door," Kelley says. "You may not have the time to sit there with 10 or 20 shipments that you've got to get booked within 10 minutes and rate them across 10 different carriers' websites."
He began to look for a way to streamline the process. Kelley found a variety of transportation management software options, but none of them seemed to offer any significant improvement in efficiency. Then he discovered Freightview's online shipping management tool.
Streamlining the Process
Freightview connects its users directly to the carriers they already have relationships with and automatically delivers up-to-date rates. This not only saves Kelley time, but it has also allowed him to determine his most dependable carriers. He now deals with only five carriers on a regular basis, pared down from 10. "You start seeing who's really the one you should stick with," he says.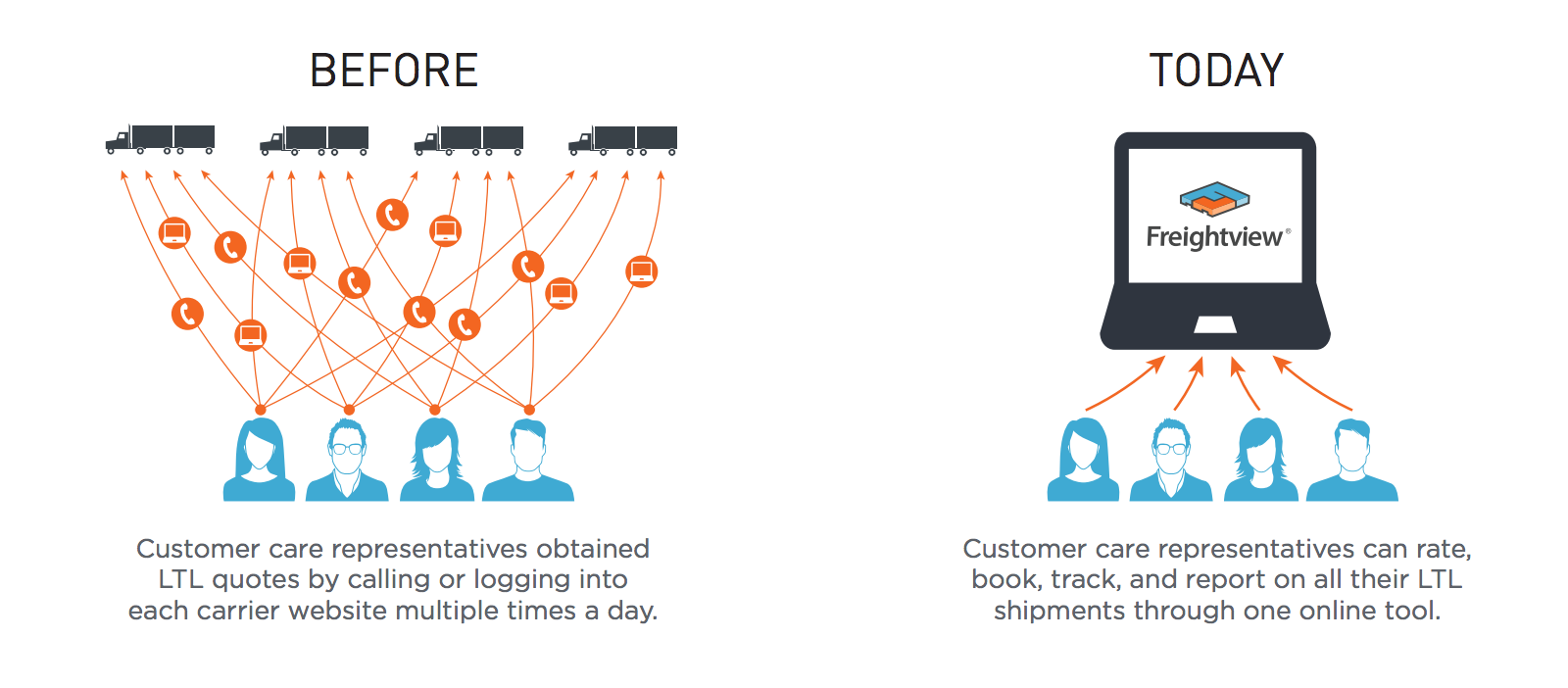 Kelley compares shipping rates through Freightview and selects a carrier. Then he uses the tool to schedule the shipment pickup and generate a bill of lading. Before he started using Freightview, Kelley had to telephone various carriers to schedule a pickup. "It's really decreased the day-to-day, and the quarterly and annual, conversations with the carriers," he says.
Collecting Data, His Way
Freightview automates much of the shipping process for Kelley, but it also provides access when he wants to do things his own way—such as managing the data that Freightview collects on his shipments. "I'm a spreadsheet guy, and I'd find it kind of offensive if I couldn't touch my data," Kelley says. "Freightview really allows that. I get to export whatever I want to Excel and manipulate it whatever way I'd like."
After more than a year of using Freightview, Kelley is happy with both the functionality and the service. He never has to wait "more than a minute" to get in touch with Freightview via phone or online chat if he needs help or has a suggestion to improve the tool.
"A lot of other companies are just unresponsive," he says. "Freightview really is responsive in saying, 'You know what? We do see value in this. Everybody could use this type of feature.' That's kind of an extraordinary thing."
Sign up for a free trial of Freightview today to see how we can benefit your business, too.