Road Rescue Saves Tons of Time and Money with Freightview [Case Study]
Andrew Blades is deservedly proud of Road Rescue's success, the company he co-founded in 2011. He enjoys his job as VP of Operations for the Uvalde, Texas-based company, which manufactures Road Rescue Asphalt Patch, a pothole-repair product.
But there was one aspect of the business that frustrated him: the amount of time — often hours — it took to create an accurate quote for a customer.
Road Rescue's customers include city and state governments that manage large-scale road repairs; big box-stores that buy wholesale for their locations; and home improvement retailer sites, where "the customer orders through the website, and we drop-ship directly to them," says Blades. While a homeowner may buy just one bag to repair a driveway pothole, "our average shipment is 6,300 pounds," he says. "Freight can sometimes cost more than the product." So when Road Rescue gives a quote, it had better be right — or the profit on the order could be eaten up by unnecessarily high shipping costs.
Changing How Business Gets Done
When Blades learned about Freightview's free 30-day trial a year ago, he was eager to give it a try. His background in software integration helped him recognize a good thing when he saw it. "I know how applications work together, and when I found Freightview, it changed how we do business," he says.
"It used to take me half a day to a full day to prepare a quote," says Blades. "With Freightview, it takes 10 minutes."
And quotes are spot-on every time. "You can't give a generic quote. You have to look at your price point and build in freight costs. With Freightview, we know we aren't losing money," says Blades. "There can be a 20% to 30% difference in shipping costs between carriers, and now I can see that right on one screen."
Maximum Savings
"Back in the day, we would go back and forth between different carriers' websites, trying to save every dollar. And doing it on deadline," says Blades. Labor costs were high because employees spent hours entering data. With Freightview, Blades and his sales and order-entry teams simply punch in a ZIP code, choose a carrier based on the prices given, and then add the customer's address. "Our order-entry people love it," he says. "The whole thing takes about six clicks."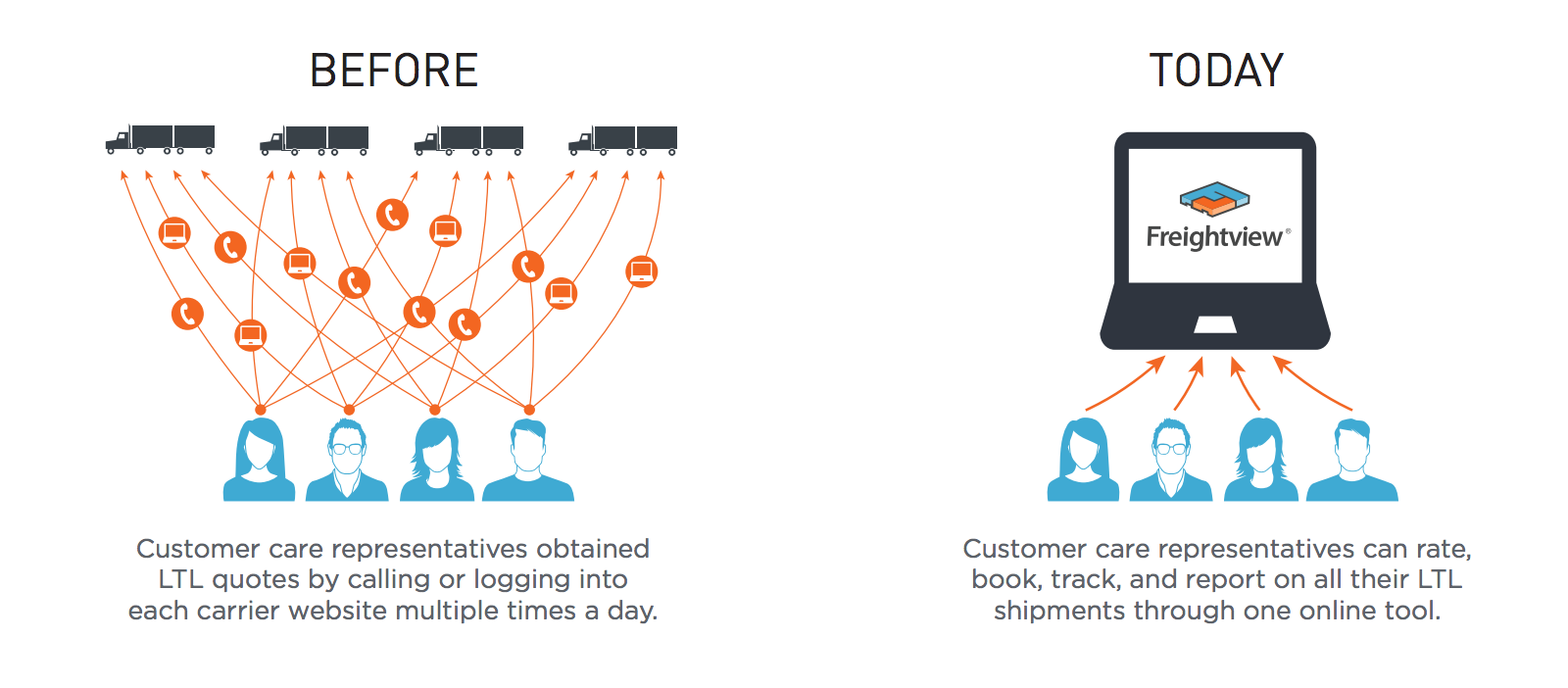 Another big money saver for Road Rescue: Freightview allows users to schedule pick-ups as well as print shipping labels and bills of lading. "Our order-entry people used to have to go in manually and fill out a bill of lading," says Blades. "Now our product library and locations library are in the software. All we have to do is click Book Shipment and it pulls in all that info. Between that and the huge number of hours we are saving in creating quotes, Freightview has really streamlined our process. It's the best thing ever."
Sign up for free trial and see how Freightview can benefit your business, too.