Introducing: New & Improved Product Catalog
It's official-- the new and improved Freightview product catalog is here, and we really think you're going to love it.
You will now have the ability to completely control how your product catalog is built. You'll be able to add new products, edit existing products, or delete products. You'll also be able to decide if users have the ability to quote with new products or only items that already exist in the catalog.
Let's break it down..
To build your product catalog simply go to your settings page, choose product catalog on the left-hand side and choose "Add product"


You will then see this screen which will allow you to enter all of your pertinent product information:

You will only want to enter in the information you want to auto populate when you select that product from your catalog in the future.
Do you want to make a particular field read only for your other users? Simple-- just click the checkbox next to the text field.

You will also notice some new settings toggles for product catalog.
Allow users to quote products that are not in the catalog.

If you want users to be able to quote products without restraint, simply turn this 'on.'
Have Freightview automatically create products in my catalog after booking them.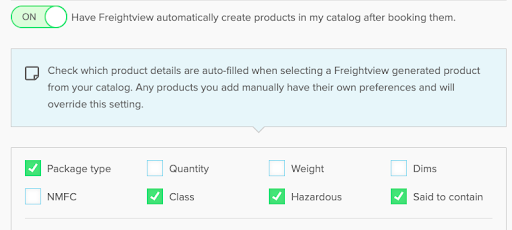 This will only be an option if you allow users to quote products that are not in the product catalog. If you need to quote using a new product you can decide if you want Freightview to automatically store that in your product catalog after booking. If not, simply toggle it off.
If the answer is yes, here is where you'll choose which components of the product to save-- package type, class, weight, etc.
When quoting, search for your saved products using the "Search products" field.

When you make specific fields read-only the field will be locked when chosen from the product catalog and it will look like this: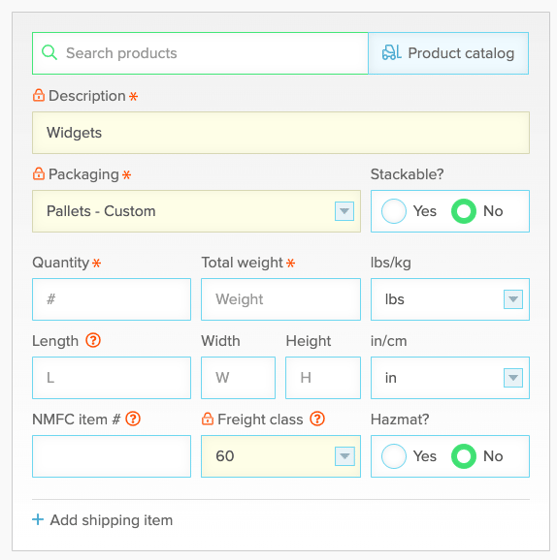 Product catalog is the latest way we took your feedback and made Freightview better. Not a Freightview user yet? Become part of the family and sign up for a free trial today.