Connecting to C.H. Robinson's API
As a neutral platform, Freightview empowers its users to be hands-on with their carrier network. We've made it easy for you to Add and Update those partners within our App - in just a few clicks!

Adding C.H. Robinson
First, log in to your Freightview account and select the "+" to the right of the Carrier/Broker banner.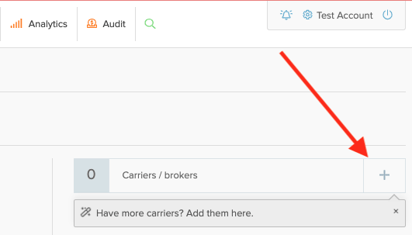 You can scroll through the alphabetical list of carriers or use the search bar to find C.H. Robinson. Once clicked, a slider opens up asking for more info.
From here you'll use your Navisphere 2.0 credentials to fill in the Username and Password, CHR Account reps' contact info, and check the applicable modes you have contracted rates with. If you are not sure if you have LTL and TL, reach out to your carrier account rep directly to confirm.
Once you're finished, hit "Authorize".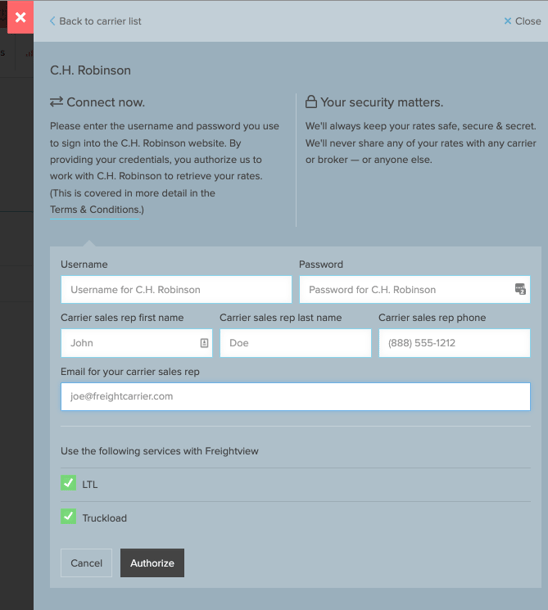 This will prompt us to start connecting with your rates via API. You can follow the progress on the FV Home Page, but keep in mind the typical turnaround time for the connection is 24-48 hours.

You'll hear directly from our Support Team if we run into connection issues, or need additional info.

Your Rates are Ready!
LTL API Rating Example

TL API Rating Example

Spot Quoting with C.H. Robinson
Add your CHR contact's email address Here to send them loads to manually bid on. They'll get a link back to our carrier portal automatically.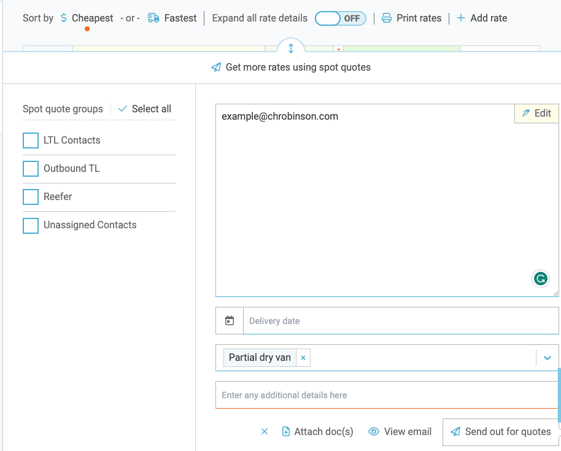 Questions or Feedback on your Freightview Experience? Please shoot us an Email