Freightview offers multi-mode shipping, but we first built our platform around your LTL shipping needs. Hundreds of companies trust us to help them manage their freight. We offer a concise, easy-to-use interface and we know our way around LTL freight. This is your comprehensive guide to LTL shipping and the carriers that make it happen.
What is less-than-truckload?
True to its name, less than truckload freight is when you are shipping things larger than a parcel shipment but only require a portion of the 53" foot trailer. LTL shipments typically fall into a weight range between 150 and 15,000 pounds.
Typically LTL freight is palletized and ships on 48x48 sized skids. This is not always the case, but this is common practice for this kind of shipping. Some other common things we see shipped via LTL are crates, totes, and kegs.
How is LTL pricing determined?
LTL pricing has a lot of factors that go into determining a freight rate. The distance, weight, freight class, and dimensions of your freight will factor into the cost of your shipment.
What are the benefits of LTL shipping?
Minimizes costs - If you aren't utilizing a full trailer, you can save money by utilizing LTL rates. This allows your carriers to move freight from other shippers at the same time.
The more LTL you ship the more negotiating power you will have with your LTL carriers. Carriers look to fill capacity for specific lanes, and if your routes fit those lanes, you can forge a mutually beneficial relationship when it comes to your negotiated rates.
More service options - When you ship LTL you have so many options at your disposal. You can choose anything from guaranteed delivery times to requiring a delivery appointment. When you utilize your LTL carriers you are certain to find a service level that fits your specific needs. Different carriers come with different options.
Some of the most widely used service add ons include
Liftgate
Inside delivery
Residential delivery
Call before delivery
Freeze protection
Different carriers will specialize in different things. You can decide what is important to you and use that information to help you make an informed decision on which carriers will meet your needs.
Easy to track - Tracking your LTL freight is pretty commonplace and simple. Pre-assigned pro numbers that are scanned at the time of pickup makes it easy. A system like Freightview makes it even easier.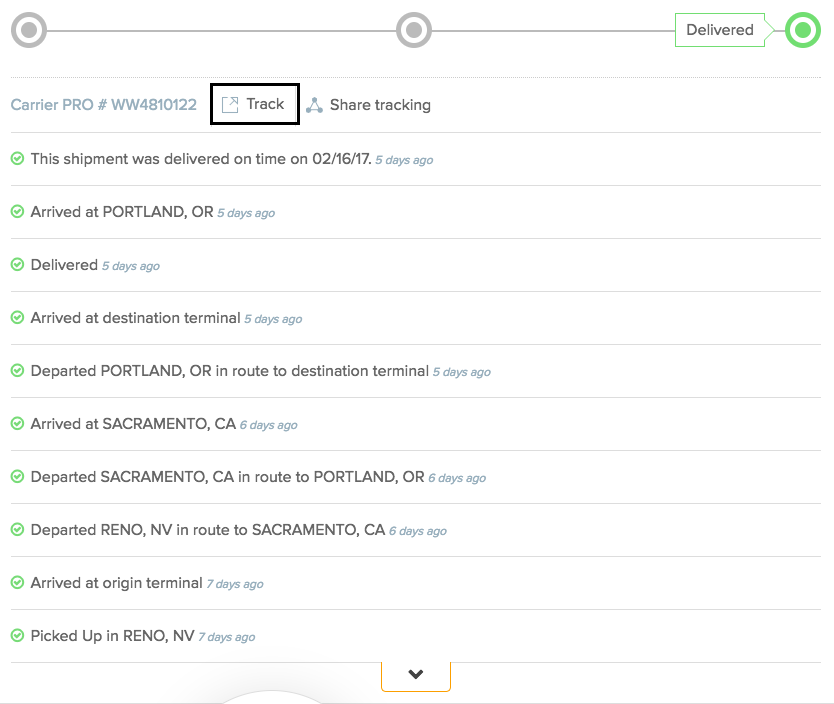 You can get insight to where your shipment is every step of the way and it is automated. This isn't commonplace when it comes to FTL. You can easily share this pertinent information with your customer, sales team, or anyone else who has a vested interest in where the freight is and when it will arrive.
How do I negotiate better pricing with LTL carriers?
You want to know you're doing everything you can to get the best deals and to do that you need the proper know-how. There are 3 major things you can do to negotiate the best possible rates.
Look at your lanes - Your carriers are a critical component of your business plan but that goes both ways--they don't want empty truck space. Knowing which lanes a carrier is frequently making can be helpful. If a carrier is already making a trip daily, you can probably negotiate a better discount than a route they only run once a week. It is important to understand what carriers are capable of performing what; what areas they cover and the type of equipment and services they offer.
Know your freight spend - If you are currently awarding a single carrier with a large percentage of your freight spend you can and should use that when negotiating with a carrier. Most carriers are going to want to hold on to being a preferred carrier for your business and may be more willing to negotiate in your favor when that card is played. It can be beneficial to analyze where exactly your money is going.
Know your product density - When carriers work out pricing for your shipments they base their prices off of density, class and pounds per cubic feet. It is really important for you to understand your product density, class and proper NMFC number. This helps you to have realistic expectations about your pricing and will allow you to see where the carrier is coming from. If you are shipping high density products with a freight class of 500 you are going to have to spend more than someone shipping low density class 50 products.
How can a TMS benefit someone who is using multiple LTL carriers?
You've done the hard work to negotiate freight rates with multiple carriers, but how do you ensure you're choosing the best carrier for each lane every time? A transportation management system, like Freightview, uses API technology to pull in your life pricing for all of your carriers on every single quote.
Choose a quote based on what is most important to you-- cost, transit time, service level, etc. You have all the information to make the best selection every single time.
Freightview connects to over 80 LTL carriers. That will cover all of the major national carriers and many of your preferred regional carriers as well. Read our Ultimate Guide to Transportation Management Systems for all you need to know.
Here at Freightview we know LTL and we know it well.