Update shipment details after booking
Imagine you've just finished booking an LTL shipment. You chose a carrier, scheduled the pickup, printed the bill of lading and labeled every pallet. Now you're just waiting for the driver to show up and load your freight.
Then you find out there's been a change. Maybe there will be one extra pallet. Or the weight increased from 520 lbs. to 550. Or it's not going to be ready until Wednesday. Or the customer needs the order sent to their Omaha warehouse instead of Scottsbluff. You need to update the bill of lading and let the driver know what to expect.
Freightview makes it easy. From the shipment details page, click More actions, then Change bill of lading.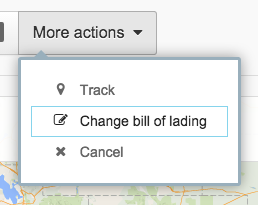 You'll be taken back to the same page you used to book the shipment.

When you're done making your updates, click the Save changes button.

If your edits are going to increase the cost from the carrier, Freightview will show you the new price.
Fair warning here: Not all carriers can accept electronic updates. If they can't, we'll update your bill of lading, but you'll need to let the carrier terminal know about the change. We'll tell you when that's the case, and we'll keep working with carriers so you'll see this less and less.

So there you have it: the ability to update shipment details after booking. It's another way we make Freightview fit the real world of your business.