Transportation Management Systems: 101
Transportation management systems (TMS) are a staple of the shipping industry. Those systems scale from big, robust, and expensive systems to smaller, more hands-on and affordable systems, and everything in between. A properly utilized TMS can be extremely beneficial for a shipping department of any size.
What core functionality can a TMS provide?
Comparing shipment costs, transit times, and service levels
Shipment scheduling and document creation
Comprehensive analytics of your booked shipments
What benefits can that core functionality provide?
Having instant and accurate access to your freight rates for every single lane can save you time and money. Without a TMS, you'd have to either quote the same shipment several times on several carrier websites, or use a static route guide which goes out of date quickly and can't factor in some of the finer details like accessorials, fluctuating fuel schedules, and expedited services.
Scheduling your shipments and having access to them, and their tracking information, all on one platform creates a more organized and streamlined way to manage your shipments. If a customer calls and needs a quote or tracking information you only have one place to go to get that information quickly.
Booking all of your shipments under one platform also means unified reporting. Easily see all of your shipping data from one source. You don't need to combine information from various sources to get an accurate picture of your spend or other useful shipping data. That raw data can be helpful in negotiating even better freight rates with your carriers.
How can I get a competitive advantage using a TMS?
Apply an automatic markup to every quote and turn your shipping department into a revenue generator, or just to create cushion for any unexpected changes or charges that may occur. This feature is handy because the user can communicate to the customer what their freight is going to cost without having to calculate the markup themselves. It streamlines the process and eliminates the human error that can sometimes occur when people are calculating markup
Auditing your freight bills is an important piece of the shipment lifecycle. If you pay your invoices without comparing them to your original quote you could end up paying for incorrect service levels, a miscalculated discount, or even an accessorcial you did not require or ask for. A good TMS will aid in this process-- bringing in documentation and helping you easily reach out to your carriers for disputes.
Easily share tracking information with vendors or customers. Your TMS should provide a way for you to easily share the important information and documentation for each shipment. Giving your vendor or customer a way to easily trace their shipments or pull the proper documents for a pickup puts some power in their hands.
To conclude.. A good TMS coupled with your rates can result in major ROI.
What we covered here is just the tip of the iceberg. If you are looking for a TMS that can help you in every single step of the shipping process, and can do everything listed above, Freightview could be the right TMS for you and your shipping department.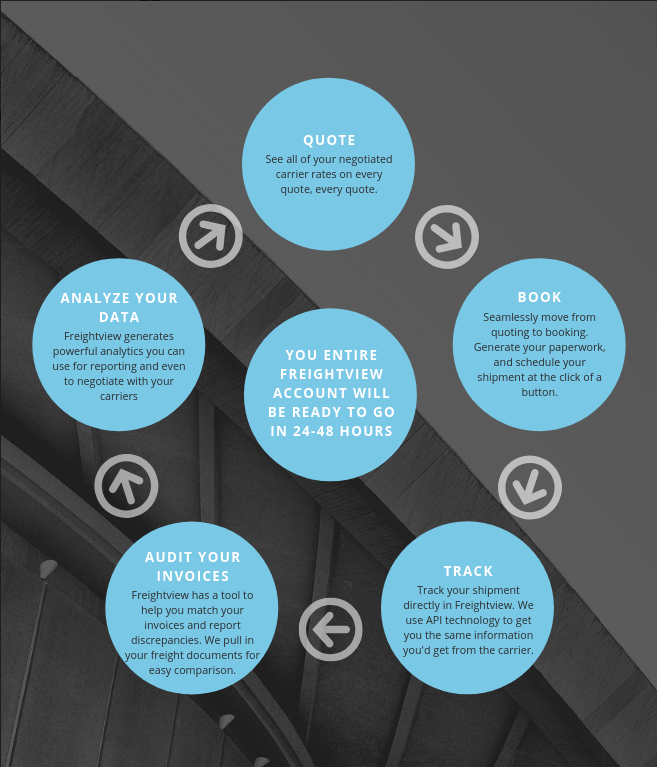 Sign up for your free trial today to see the benefits Freightview can provide. We can have you set up and ready to ship in 24-48 hours. It's that simple.