Tips for Auditing Your Freight Invoices
Freightview makes it easy to ensure you're picking the lowest cost carrier when scheduling your shipments. Naturally you want to ensure what you're billed matches what you were quoted by comparing your invoice to the quote in your Freightview account.
Auditing your invoices can be a big job, but as a former invoice auditor, I'm here to offer a few tips and tricks to make auditing your invoices simple and efficient. Your Freightview subscription comes with access to our auditing functionality which is a really awesome tool to have in your arsenal.
If there is a discrepancy, where do I start?
Do a little math.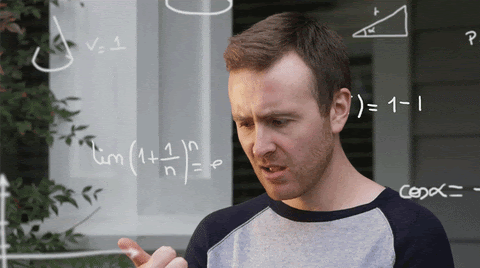 Determine the difference in price from your quote and your actual invoice. For example, if the price difference is $30 and you see a $30 accessorial charge added onto your invoice you know that is where your difference is coming from.
Accessorials are always the easiest place to start when auditing. If that is where the discrepancy is coming from, your next step is determine if the charge is valid. If the accessorial is a weight/class change make sure there is a Weight and Inspection form on file. If the accessorial is a lift gate ensure it was required by the consignee.
If a carrier is charging you an accessorial you are unfamiliar with check out their rules tariff. It will outline the definition of the accessorial as well as the cost.
Weight/Class Changes
If you quoted your shipment at an incorrect class or weight,
a correction made by the carrier would affect your rate. You can run a quote again with the correct information and see if it is similar to what you are being billed. If it is slightly off, I would recommend checking for a difference in the fuel surcharge. This changes weekly and may affect a shipment quoted in advance.
If you have contracted use of a rater like Czar-Lite or MegaNet you can run the rate through it and it should show what your exact rate is supposed to be.
Just Plain Incorrect Invoicing
If you cannot figure out the discrepancy and you do use a rate, like previously mentioned, sometimes the carrier billing department may have made a mistake and bill you a rate that is just plain incorrect. If this is the case run it through Freightview, and take a screenshot. This will be helpful when asking for a correction.
Getting a corrected Invoice
In your outstanding auditing queue you will be asked "Does this amount match the invoice from the carrier?" When you select "No," you will have an option to challenge the invoice and mark as disputed or to enter a different amount and mark as accepted.
If you choose to mark as disputed, you will see some more prompts.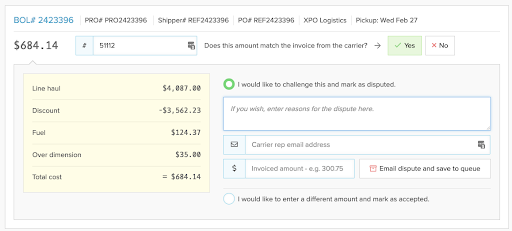 You will be asked for your reason of dispute, the email address of your carrier rep, and the actual amount invoiced. From there, you can send your dispute directly to the carrier. We will send them an email with the original quote and your dispute.
If you're not using Freightview yet, and are ready for a system to handle your shipping process from beginning to end, sign up for a free trial to see how we can help make your processes more efficient.