The Ultimate Guide to Transportation Management Systems
Transportation management systems (TMS) are a staple of the shipping industry. Those systems scale from big, robust, and expensive systems to smaller, more hands-on and affordable systems, and everything in between. A properly utilized TMS can be extremely beneficial for a shipping department of any size.
What exactly is a Transportation Management System (TMS)?
A Transportation Management System is a platform that was created to streamline your shipping processes. Automation is the name of the game-- automate different facets of your shipping process. What the TMS can do will vary greatly, but the core functionality will include: comparing shipping costs, transit times, and service levels, shipment scheduling and document creation, as well as comprehensive analytics on your booked shipments. There are a large range of TMS' with varying functionality and scalability. The cost of a TMS will vary based on how hands on you want to be, and how sophisticated you need your solution to be. Anyone who moves freight on a regular basis can benefit from utilizing a TMS.
What core functionality can a TMS provide?
Comparing shipment costs, transit times, and service levels
Shipment scheduling and document creation
Comprehensive analytics of your booked shipments
What are the benefits of a TMS?
Having instant and accurate access to your freight rates for every single lane can save you time and money. Without a TMS, you'd have to either quote the same shipment several times on several carrier websites, or use a static route guide which goes out of date quickly and can't factor in some of the finer details like accessorials, fluctuating fuel schedules, and expedited services.
Scheduling your shipments and having access to them, and their tracking information, all on one platform creates a more organized and streamlined way to manage your shipments. If a customer calls and needs a quote or tracking information you only have one place to go to get that information quickly. Your shipping documents will be generated at this time as well. Print your BOL and labels for each shipment. Digitizing your BOL has its own set of benefits as well.
Booking all of your shipments under one platform also means unified reporting. Easily see all of your shipping data from one source. You don't need to combine information from various sources to get an accurate picture of your spend or other useful shipping data. That raw data can be helpful in negotiating even better freight rates with your carriers.
What additional features can a TMS offer?
Multi-mode shipping availability
Ability for integration
Freight audit capabilities
Multi-mode shipping availability: Many shipping departments ship using multiple modes-- LTL, TL, ocean, parcel, etc. Not all TMS systems can support every single mode. Many will specialize in one of a few of those modes. You will want to ensure you find a TMS that can facilitate your specific shipping needs.
Ability for integrations: You may be interested in connecting your TMS with your ERP or an online shipping cart. Are there pre-built integrations or an open API key for you to build out that integration? These kinds of integrations can streamline your processes even further.
Below you see a few common integration flows Freightview customers have built using our open APIs.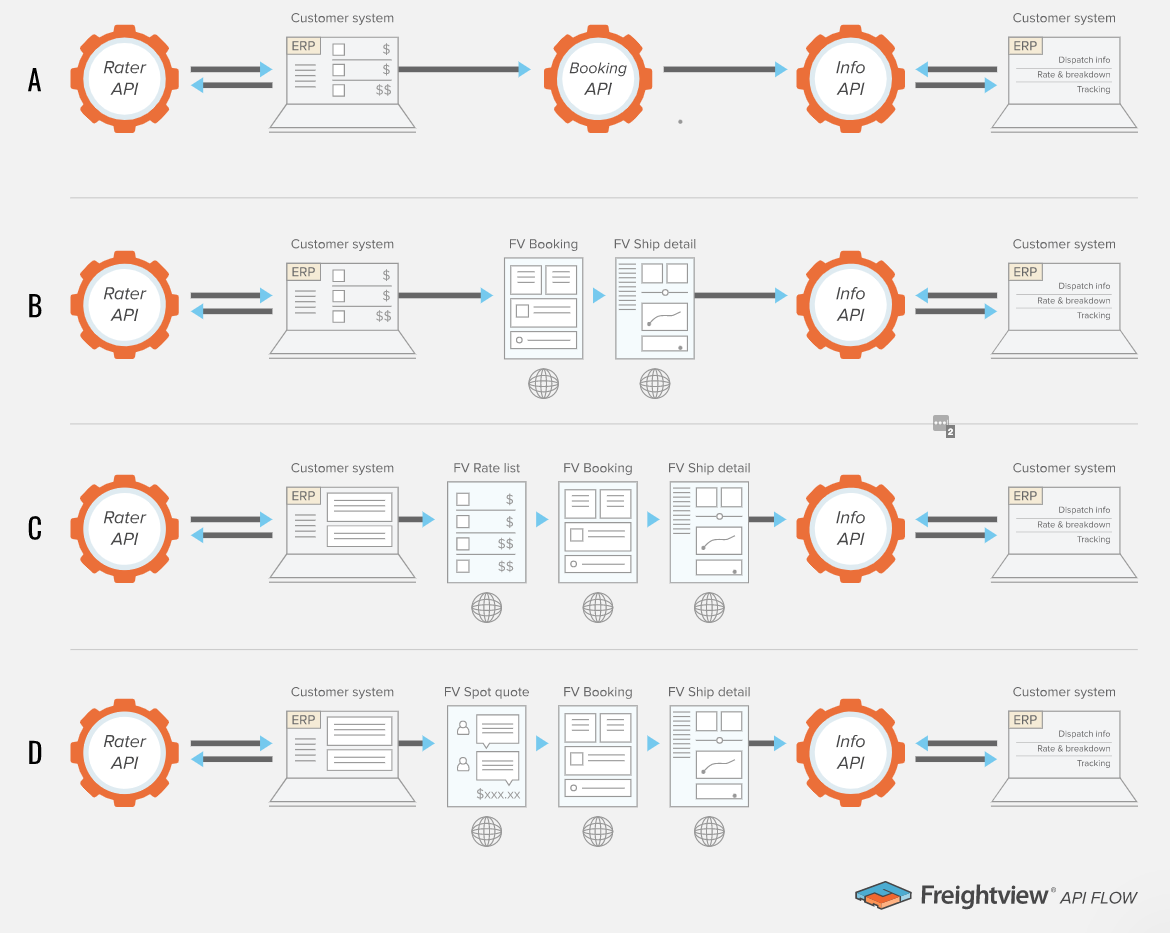 Freight Audit Capabilities: If you blindly pay your freight invoices without double checking to see if you are paying what you are quoted you are leaving money on the table. There could be incorrect accessorials added on to your invoice or just a simple case of incorrect rating. Being able to easily see all of your shipments in one place, and having access to the shipping documents makes this
Why should shipping departments use a Transportation Management System?
Applying an automatic markup
Auditing your freight bills
Easily share tracking information
Apply an automatic markup to every quote and turn your shipping department into a revenue generator, or just to create cushion for any unexpected changes or charges that may occur. This feature is handy because the user can communicate to the customer what their freight is going to cost without having to calculate the markup themselves. It streamlines the process and eliminates the human error that can sometimes occur when people are calculating markup
Auditing your freight bills is an important piece of the shipment lifecycle. If you pay your invoices without comparing them to your original quote you could end up paying for incorrect service levels, a miscalculated discount, or even an accessorcial you did not require or ask for. A good TMS will aid in this process-- bringing in documentation and helping you easily reach out to your carriers for disputes.
Easily share tracking information with vendors or customers. Your TMS should provide a way for you to easily share the important information and documentation for each shipment. Giving your vendor or customer a way to easily trace their shipments or pull the proper documents for a pickup puts some power in their hands.
What questions should I ask when choosing a Transportation Management System for my company?
What do their customers have to say about them?
Do they offer customer support?
Is the system cloud-based?
Does the TMS favor a particular carrier or 3PL?
How are my rates 'loaded?'
What do their customers have to say about them?
Before you make any major purchase, you should read through customer reviews. When it comes to software there are specific repositories for reviews you can check out. A couple of really great places to start are Capterra and G2. If you want a real expert to help you determine what platform could work best for you you can go to Software Advice and get a recommendation for your businesses needs in about 15 minutes.
Do they offer customer support?
You are bound to run into questions when learning a new system of any kind. It is vital to ensure whatever solution you choose offers responsive customer support, preferably, accessible via multiple avenues such as email, phone and live chat.
Is the system cloud-based?
When your transportation management system is built on the cloud it can be accessed from anywhere on any device. You don't need to be in your office or at your desk to access your shipping information. Cloud-based also means you always have the most up-to-date version of the application. You won't have to sit through a software update when new code has been written by the software developers.
Does the TMS favor a particular carrier or 3PL?
Many carriers or 3PLs offer their own variation of a TMS. It is important to determine if they have this relationship, and if they do, will they prioritize those particular rates over others? Using a TMS that manipulates your rates does not give you an accurate picture. Neutrality by your TMS can be extremely valuable.
How are my rates 'loaded'?
Most TMS' you come across presently will use API connectivity to get your rates into their system. An API connection means real time connectivity. If a carrier updates your pricing, that will be reflected inside of your TMS in real time. If you choose a system that requires manual loading of rates via spreadsheets or routing guides the information will be useless as soon as your rates are updated and is much less cost effective.
Will using a Transportation management system help me save time?
In short, yes. If you run every quote, on every individual carrier website you are spending a lot more time on a quote than you'd need to. If you use 5 carriers, and check the price on every lane, utilizing a TMS can at the minimum cut that down to the time it would take to run one quote, without sacrificing your diligence and confidence in knowing you're selecting the best rate for you. This is especially beneficial when you want to quickly get a quoted price to one of your customers.
"Freightview has created time savings you would not believe. It has greatly improved the turnaround time on orders, and we could not be more pleased." -- Colleen Peters of Prosoco said of Freightview in a case study.
A good TMS can offer time savings in other areas as well. Have a centralized location for all of your orders means quickly finding tracking information, shipping documents, and your reporting is already all encompassing and ready to export.
Can a Transportation Management System benefit my company outside of my shipping department?
In short, yes. A good TMS can help streamline things in your company beyond your shipping or logistics operations. Who else could your TMS benefit?
Sales
Customer Service
Finance
Vendor Procurement
Sales: Giving your sales team access to your TMS can be really beneficial. They can quickly give an accurate quote to a customer. In a system like Freightview you can even include an automatic markup to the quote if you want to pad the costs a little bit.
Customer Service: With access to your TMS your customer service team can quickly find tracking information with a customer. One website with one login results in a quicker turnaround with this information than multiple carrier websites. With Freightview you can even send an email with live tracking info directly to your customer.
Finance: If your finance department is in charge of paying your freight bills, having access to the company's TMS can ensure they aren't over-paying. By having access to the original quote they can know pretty quickly and easily if they need to approve or dispute an invoice sent over by your freight carrier.
Vendor Procurement: Exporting and analyzing this raw data goes far beyond basic reporting. This data can, and should, be used to negotiate pricing with your carriers. These analytics allow you to see your spend with each carrier by dollar amount, weight, and cost per hundredweight.
A good Transportation Management System coupled with your rates can result in major ROI.
What we covered here is just the tip of the iceberg. If you are looking for a cloud-based, carrier neutral, multi-mode TMS that can help you in every single step of the shipping process Freightview is here to help. You can set up your Freightview account in minutes and we will have your rates connected and ready to go in less than 48 hours. We are an ever-changing and ever-growing platform that listens to customer feedback and builds our product with the shipper in mind.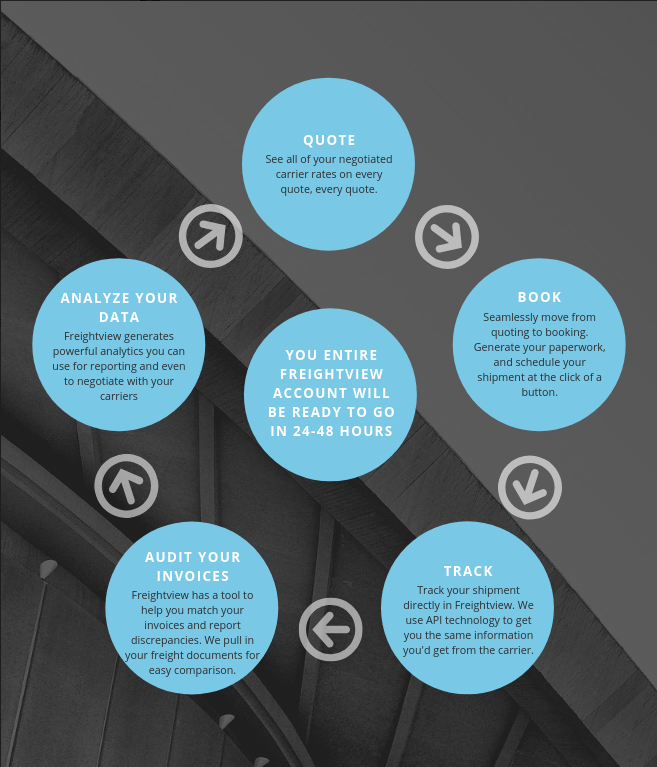 Sign up for your free trial today to see the benefits Freightview can provide. We can have you set up and ready to ship in 24-48 hours. It's that simple.