The second quarter of the year is behind us, and we are smack dab in the middle of summer. We hope everyone has adjusted well to their new normal and has found a way to keep freight moving in a way that works well.
We've still been hard at work here at Freightview and have a lot of new features, improvements, and updates to cover!
Freightview Carrier
The Freightview spot quoting tool has been available and helping shippers since the summer of 2017. But now, we're rolling out a carrier site-- which will be valuable for shippers and carriers alike. Freightview Carrier is an easy way for carriers to manage every spot quote and shipment they're attached to via Freightview. Your spot quote carriers will now have the ability to give you tracking updates, provide a BOL, and send important updates which will appear in Freightview.
Notifications
We now have in-app notifications. You'll notice a new bell icon next to your name in the top right hand corner of Freightview. Currently, you will only receive notifications when there is an error booking your shipment, or if there is a major Freightview release. If there is an error, it will include the error message and will allow you to go in and fix the issue, and book again. Fixing the issue will, in turn, clear the notification.
Default Label Settings
You now have the option to set default label settings for your company. This will allow you to bypass a step and automatically generate the size you need.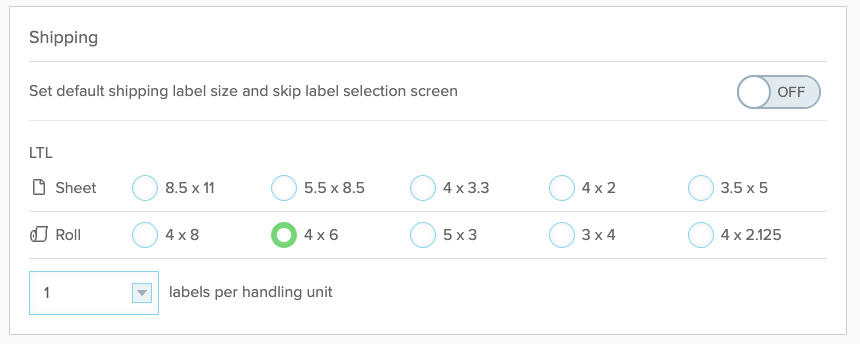 New Parcel Features
Booking 3rd Party Parcel Shipments
One of the biggest pieces of feedback we heard when it came to parcel was the need to be able to book a parcel shipment, where you bill collect to the recipient or third party. This functionality is now live in Freightview.
Parcel Packaging Types
You have the option to choose from a set of predetermined packaging types for FedEx and UPS when quoting your parcel shipments.
Freight Class Calculator
Ask and you shall receive. We recently added a freight class calculator to the quoting screen. Enter your weight and dimensions and we will provide you with the estimated class based on the density of your product.

New Address Book Setting
Decide if every address you ship to or from is automatically stored in your address book. If you are shipping to a lot of one-off destinations this can help keep your address book clean. You will find this under your app settings.

Resend Audit Dispute Email
If you are utilizing our auditing tool and using it to send rate disputes to your carriers you now have the option to resend that dispute email. This is an easy way to follow up with your carrier if you have not heard back regarding your dispute.

Volume Quote Expiration Date
We return volume quotes via the API for your supported carriers. Those are only valid for a limited time, and you can now see that expiration date included in the quote.

Website Performance
We know Freightview is a vital part of your shipping workflow and it is important that our website performance is top notch. We spent time doing work behind the scenes to improve speed and stability of our platform.
Carrier Additions
We added the following carriers for quoting, booking and tracking:
C&M Forwarding
YRC Dimensional Freight Quote
ODFL Pallet Pricing
Pitt Ohio Volume Quote
We added quote only capabilities for:
Total Quality Logistics (TQL)


Other Carrier Enhancements
We now pull an invoice from Roadrunner
You can now see your Roadrunner pallet rates and LTL rates alongside one another
We implemented Holland's cancel API-- this means they're notified when you cancel a Holland shipment in Freightview.
You can now get rates from ODFL with the Sort & Segregate accessorial selected (if your ODFL tariff supports it, contact your rep for details)
We have added tracking for Valley Cartage
Account Review
Are you still unclear on any features? Or just want to see a demo of Freightview as it is currently? Sign up for an account review with Mitch by clicking here.
Love us?
If you haven't yet, leave us a review on Capterra. These reviews help other shippers know if we're the right fit. We'd also love for you to send some referrals our way. If you fill out this form, we'll send a $5 gift card for each referral.
Webinar Recordings
Lately, in the blog…
A TMS Can Benefit Your Entire Company
Burch Bottle Books LTL and Parcel Side by Side in Freightview [Case Study]