How to share your shipping data with your carrier reps
When you book all your shipments in one place with a TMS like Freightview, you can reap the benefits of reporting across every shipment, every lane, and every carrier. But don't just keep your shipping data to yourself - your LTL carriers and broker reps will want to see your shipping data so they can stay competitive. When carriers find out that shippers are utilizing a TMS like Freightview, they often want to view some data so they can get more comprehensive visibility to your LTL volume, your carrier network, and where their rates stand. Your carriers get the information they need, and you get lower rates in turn - everyone wins.
So when your carrier rep comes around asking how they can win more freight, how do you compile the data they want?
1. Export your shipping data from Freightview into a .csv.
Go to the Analytics tab on your Freightview account and select the timeframe you'd like to analyze (week, month, year, etc). Then click the "Export" button.

This will generate a .csv file with all the shipment details for the time period you chose.
2. For specific lane information, use the filter function in Excel.
Many national carriers may just want a dump of all your shipping data, so you can just give them the .csv with all your shipments. Regional carriers in particular might be interested in the shipping volume for their region, so you can use the filter function and show them the lanes they support.
To filter your shipment data to specific origin or destination states, click the "G" or "V" columns to highlight the whole "origin state" column or "destination state" columns.

Next, select the filter button from the toolbar at the top of your spreadsheet.

An arrow will appear in the header of the column you've selected. Click that arrow, and a new menu will appear.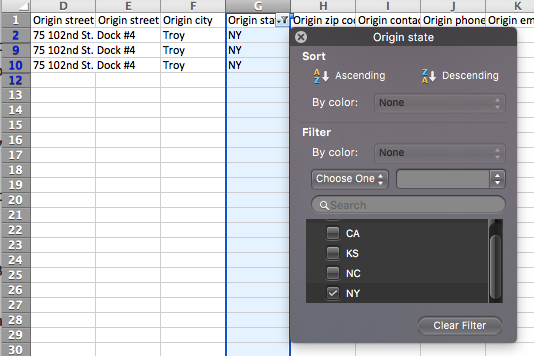 You can check only the states you'd like to report on to your rep. So, for instance, for a regional carrier based out of the northeast, you could select NY, NJ, PA, etc. This will provide the carrier with only the data that is relevant to them.
3. Send the data to your carrier for analysis.
Once you've compiled the data they need, the ball is in the carrier's court to do the necessary reporting on how they stack up. With Freightview's .csv report, they can see what freight you're shipping, the lanes you ship, total price, price per pound, average price, average weight, and more. You can give them the tools they need to sharpen their pencil and give you better pricing.
Want to centralize all your shipping data so you can negotiate better rates? Try Freightview today.