The end of year will be here before we know it, which means its time to analyze some budgets. You may be wondering how keep your shipping costs minimal, and your carrier dwell time could be contributing to your inability to negotiate lower freight charges.
Your truck driver has a lot of stops to make during his/her work day. There are things you can do as a shipper to ensure your driver gets in and out of your facility in a timely fashion. Why does it matter? Number one, this is just considerate. You don't want to cause unnecessary hold up and cause your driver to miss other pickups or have to extend their work day. Number two, dwell time costs money.
Iowa State University conducted a study, published back in 2015, and found that an average dwell time of two hours increases the freight rate for every load shipped from that origin by $9.83. If a shipper is at an average of three hour dwell time you can expect an increase of $14.74 per load from that origin.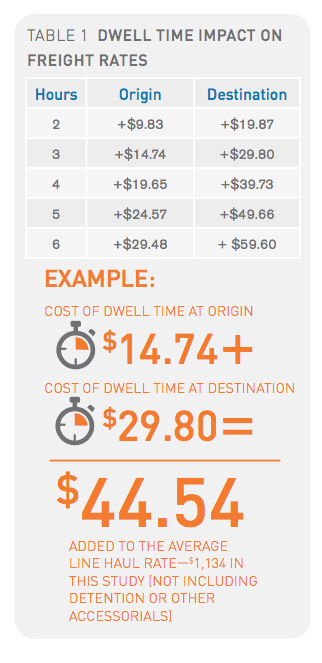 That's not even considering the possible detention accessorial fee that can be tacked on to your invoice if you are holding up carriers at pickup. Timeliness is important, and there are steps you can take to ensure you are doing your part as a shipper to get your drive in and out.
Pre-stage your freight on the dock: simply having your freight immediately ready for the driver is a time saver.

Palletize your freight: 1 pallet is obviously quicker to load than 36 loose boxes. (This also makes your freight less likely to end up as shortage claim.)

Maintain sufficient staff for loading and unloading: If your dock is short-staffed and doesn't have someone readily available to to load or unload a shipment you are contributing to dwell time.

Set up delivery appointments: If there are times during the day that are hectic, or just not a good time for the driver to show up, schedule a delivery appointment that works for you.

Ensure the driver knows where to go: If you have a large facility, with several buildings, or loading docks you need to make sure you are specific enough in your pickup request for your driver to find you.
Decreasing carrier dwell time saves you money and makes your facility and your freight more desirable to your preferred carriers. Manage your network with Freightview.
*Editor's note: Content of this blog is based on the C.H. Robinson white paper, "Do "Favored Shippers" Really Receive Better Pricing and Service?" *