Freightview Newsletter: April 2021 Edition
First-quarter is behind us, and we wanted to catch you up on all that has happened here at Freightview in the last few months.
FedEx 2021 Compatible Solution of the Year
Each year, FedEx evaluates and ranks every Compatible solution based on several metrics and names one Compatible Solution of the Year. Only one outstanding solution is awarded Solution of the Year.
What does that mean for you as a Freightview user? Being a part of the FedEx Compatible Program means we have the most up-to-date FedEx technology built inside of Freightview. We also have the privilege to beta test new technologies and offer feedback and suggestions with our customers in mind.
🎂 Freightview is 7! 🎂
Today Freightview is 7 years old. It's hard to believe, but time really does fly by when you're having fun. We believe in a culture of "work hard, play hard." Our team, our culture, and our desire to put you, the customer, first is the key to our success over the years. We truly want to thank you for your support, and we are looking forward to the next 7 years.
What's coming next in Freightview?
We listened to what our customers have wanted and we've been building it. There will be a vast overhaul to our product coming in the second half of this year, specifically additional functionality for truckload shipping and enhancements to our spot quoting tool. Some features that you can look forward to are truckload-specific workflows, multi-stop shipping, multi-truck shipping, and much more!
Latest Releases

Item Level Tracking
This will apply to users who are booking with FedEx and utilizing their per-handling unit labels. You can now track at an item level for different handling units. This applies to both parcel and LTL. If a shipment has more than one handling unit, and we have tracking numbers for each of these handling units, we will pull in a tracking status based on each individual unit.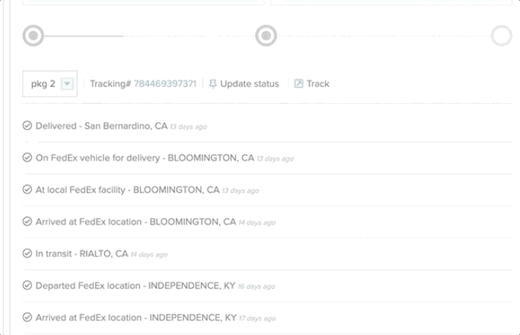 Updated WooCommerce Plugin
We updated our WooCommerce plugin to support the most recent versions of WooCommerce and WordPress. If you are currently using the plugin you will just need to choose to update the plugin on the Plugins section of your WordPress settings. If you are starting from scratch, you can read up on setting up Freightview for WooCommerce.
On-Time Delivery Reporting
On-time delivery will now show up in your Freightview export. We have added a column that will show TRUE or FALSE based on if the delivery date is on or before the day the carrier predicted delivery based on transit times. This is column CQ on the export. You can manipulate the data in whatever way is most meaningful to you, but you can find an example of how to configure this data in this blog post.
Invoice Notes
We added your invoice notes to your auditing export. Any notes you make in regards to your invoice will be included in your export. This will help you report on any discrepancies, short payments, etc.
Shipment Search API
When you use Freightview's API in your own integration you can search for shipments using different parameters. We expanded that this year by adding Created Date as a way to search for shipments created on a particular day.

Sandbox Environment
This environment is for you to test API integrations before you start booking live loads. Your account will automatically be granted access to the sandbox. You can log in here. You can learn more about our sandbox environment in our developer kit.
Parcel Freight Collect API
We added the ability to book a parcel shipment and bill the consignee or a third-party account through the API. You can find out everything you need to know in the parcel API documentation.
Booking API Now Accepts Updates
If you receive an error, for example, "Address 1 is too long", for a field that is updatable via the /book request, you can pass in the correct value in the appropriate field and re-try booking. You can only make changes that will not affect the rate of the shipment. If your change impacts the rate, you will need to rate the shipment again using the /rates endpoint. You can find more information in the booking errors section.
New App Setting
Back in September, we rolled out a Missed Pickup Report, but we only showed you the shipments you booked. We added an app setting that allows you to toggle between seeing only shipments you have booked, or seeing missed pickups that were booked by all users. This is a setting that can only be changed by a full access user and the setting will apply to all users.

Customer Rate Detail Update
In your documents section on each shipment, you should see a document labeled "customer rate detail." This can act as a way to invoice your customers right out of Freightview. You can read more about doing so on the blog. What has changed, however, is we will now include your logo on this document if you've added it into Freightview. If you don't know how to add your logo you can learn how to do so on the blog as well.
Spot Quote Filters Enhancement
Last summer we added a way to filter your spot quotes. You can view all, quoting, awarded, and confirmed shipments. Previously, shipments with a pickup date in the past would be under your confirmed shipments. For a more clean view, we will no longer show shipments with a past pickup date in this view.
Defaulting to a Newly Added Address
Previously, when you added a new address to your address book from the quote screen you'd have to select it again after saving it. We will now automatically select the new address you added. This eliminates extra steps in your quoting process.
Auditing Update
If you utilize our auditing tool, you may have noticed a slight change to your disputed queue. Previously invoices would fall off after 90 days. However, we know that sometimes issues may still be ongoing after that time period. Shipments now stay in your disputed queue until you mark them as resolved and remove them.
Carrier API Updates
Added Moran Transportation for rating, booking, and tracking
Updated FedEx Freight Direct pricing
Implemented ODFL's new pickup API-- which now returns a pickup number.
Implemented Cross Country Freight's cancel API
Retrieve POD and Signed BOLs for Central Freight Lines
Updated APIs for 3 different carriers (Mountain Valley, Clear Lane, and Frontline)
Adding tracking for AMA Transportation
Freightview Carrier Updates
Carrier Document Upload
If you aren't familiar with Freightview Carrier, which we rolled out last summer, you can read up on it here. Your carriers have always been able to add a BOL through the portal, but now they can add a signed BOL, POD, and invoice into the documents section as well.
Show Cancelled Shipments
Previously, when you canceled a shipment it would just no longer appear in the carrier portal. Now, we will let the carrier know that the shipment has been canceled. They can choose to clear this out after they've been made aware. We wanted to ensure if your carrier clicks a shipment link in their inbox they aren't being directed to a "Page Not Found" screen.
Love us?
If you haven't yet, leave us a review on G2 or Capterra. These reviews help other shippers know if we're the right fit. We'd also love for you to send some referrals our way. If you fill out this form, we'll send a $10 gift card for each referral.