Freightview News For December: A Year In REview
2018 is quickly coming to a close and we wanted to take this opportunity to highlight all of the major rollouts that have happened in 2018 as we wrap up the year!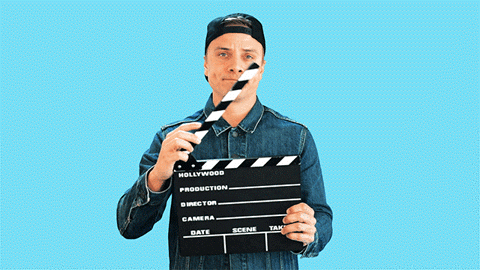 FedEx® Compatible Program
We've spent a lot of time this year getting certified as FedEx® Compatible. Read more here.
Saving a quote creates an easy way for one user to quote and select a carrier, and then another use to come in and complete the process. All you'll need to do is pass the assigned reference number on to your colleague.
Many of our spot quote users have specific carrier contacts they will send a quote to depending on the location, equipment type needed, etc. We now allow you to have these separate lists within Freightview.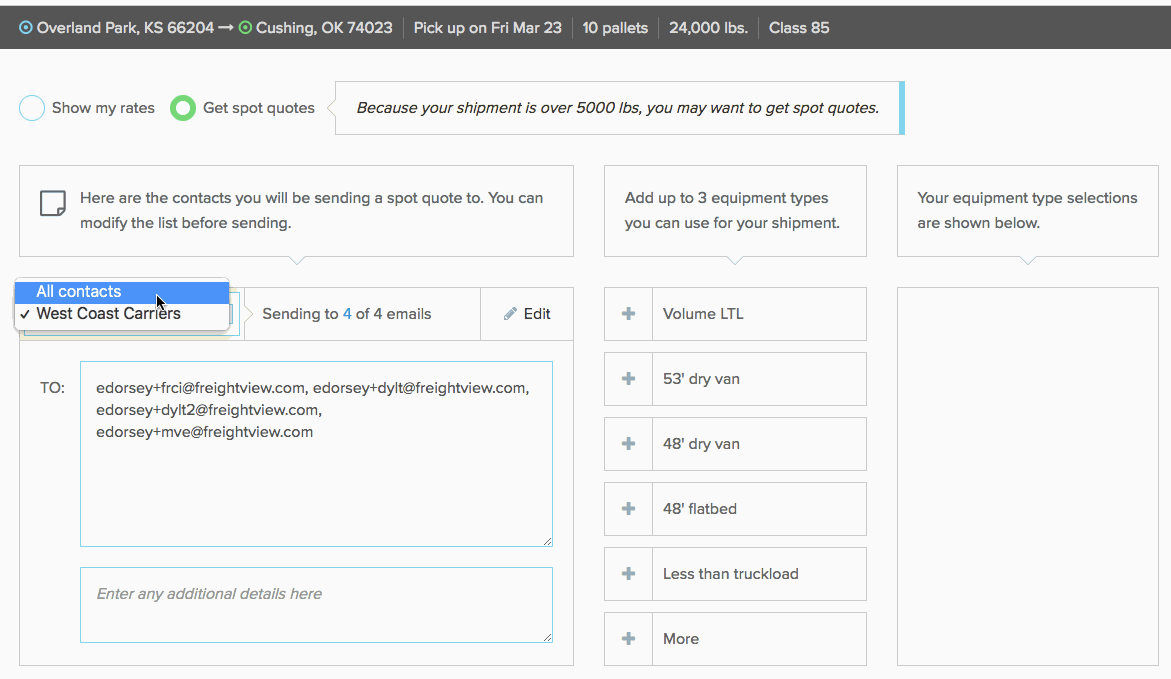 The product catalog generates as you ship. We remember what you're shipping so you don't have to manually enter that information every single time. Now the account owner, and full access users, can decide what information is important to pre-populate for your company's specific needs. You can Choose to save package type, quantity, weight, dims, NFMC, class, and whether or not your shipment is hazardous.
Leverage Freightview's APIs to create a powerful shipping flow to get information in and out of your company's system. This process ensures no duplicate entry and provides a very efficient way to integrate Freightview into your day to day business activities. Pull rates into your system using our Rater API and use Freightview to book it. Pull information from our Info API to get dispatch information such as PRO#'s, tracking and more. Below are common use cases for our APIs. We do not build out the integration for you, but we do have great resources, and are available to answer any questions along the way.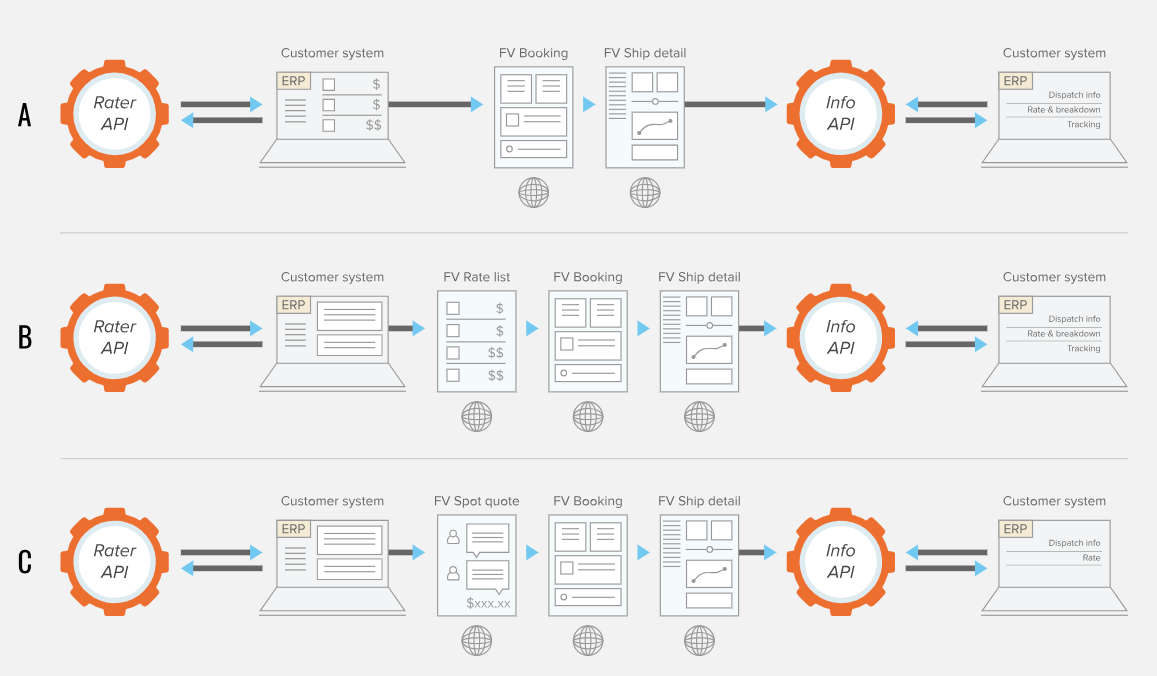 Freightview has implemented the ability to book a return shipment without having to run a whole new quote. If you need to schedule a return shipment you'll first just need to find the original shipment within Freightview and select "Create return shipment" in your left hand toolbar.
This settings page will act as your hub for managing your Freightview account. We have the settings divided into two sections, "Your settings" and "Account settings."
"Your settings" is going to contain settings that affect your individual account. For example, your contact information and the ability to change your password. This new settings page opens the door for adding even more ways to customize Freightview in the future-- so keep an eye out for what is to come!
You can see the exact time your shipment was quoted, booked and dispatched. You can also add any kind of note on the shipment that may be relevant to the entire organization. For example, many users wanted a way to indicate why they went with a carrier that may have been expensive. This is a perfect way to notate that.
We rolled out the ability for full access users to upload a company logo to display on your paperwork generated within Freightview. It's super simple, and available in settings.

We implemented a box to indicate when you'd like your freight delivered. Having this information provided up front in the request will help your carrier contacts to provide the most accurate quote information.
Your carrier contact will see that information from the start when they receive a request to bid on your shipment.
This new list gives you a birds eye view of your shipments still-- but we give you more detail. You can see your carrier, pickup date, estimated/actual delivery date, invoice amount and a tracking status bar, and more.
New Booking Page
Previously, you couldn't view or edit the accessorials you'd selected when you got to the booking page. As of this week we changed that. Don't worry-- if you make any changes we'll recalculate your rate and ask you if you still want to proceed.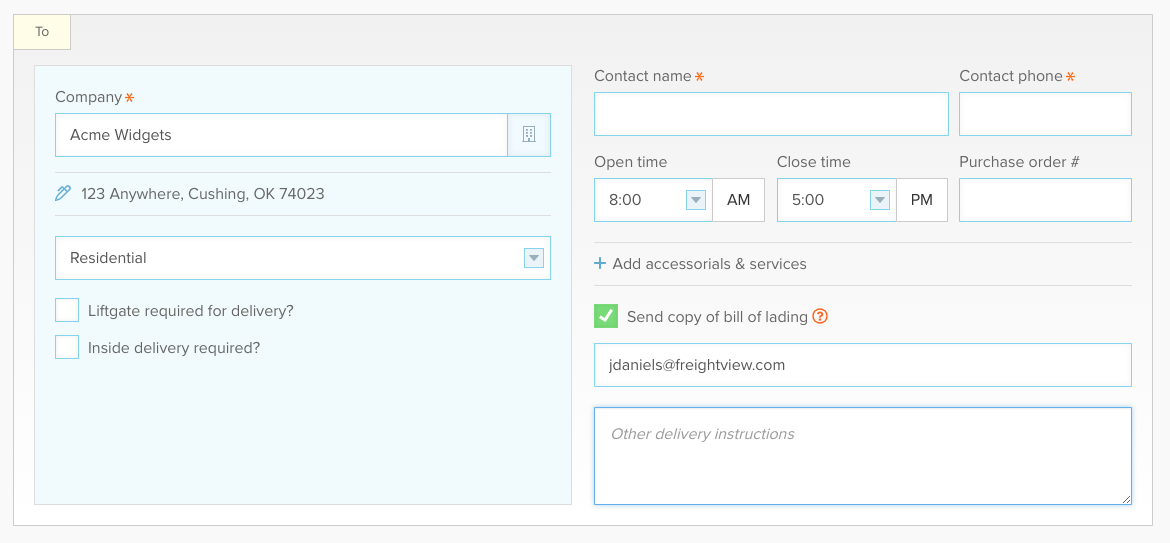 We implemented the ability to pull your carrier documents into Freightview through the API as they are created for a variety of carriers. See your signed BOLs, PODs, weight certificates and more in Freightview. We also give you the ability to upload and share your own documents.
Account Numbers for Customer Routed Shipments
If you are building a BOL for a shipment your customer is paying for we now give you a place to put their account number. If you don't have it no need to worry-- it is not a required field.

UPS Backup Pros
Currently UPS assigns a pro number through their API. At times this will fail or timeout and fall back to our backup method. Previously this meant a pro number couldn't be assigned. We've now got a block of pro numbers from UPS we can assign as a backup when this occurs.
Carrier Integrations
We have implemented or updated 30 rating APIs, 8 pickup APIs, 11 tracking APIs, and 12 document finding APIs.
Love Us?
If you haven't yet leave us a review on Capterra. It's a great way for other shippers to see how we can help them, too.
Account Review
If any of these features are unclear, or if you want more information, feel free to schedule an account review with Mitch.
We've been busy, and we plan to keep up that momentum in the coming year. Let us know what you want to see next at feedback@freightview.com