Freight Cost Increases: 2 Ways to Manage Them
General rate increases (GRIs) are a routine part of the shipping industry, and while they do not directly affect contracted rates, they do help to give you an idea of what to expect when you are negotiating your rates with your carriers each year. While no one is happy about the prospect of paying more, there are things that make the process much easier.
Know your freight spend
You can't negotiate if you don't have a good understanding of your freight spend with a specific carrier. If you have a carrier who is winning the majority of your freight you should use that information when it comes to negotiating a potentially lower rate increase. Most carriers are going to want to hold on to being your preferred carrier.
You don't have to be a data expert to understand your freight spend when you use a platform like Freightview. You can easily pull your raw shipping data out of the platform directly into a CVS file. You can also see some pre-populated charts for easy reference that are built using your shipping data.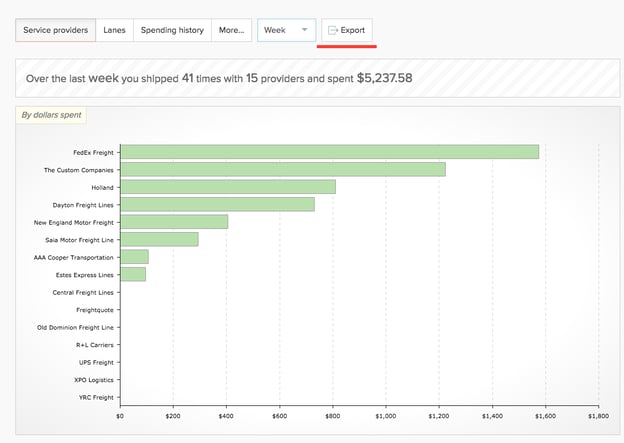 Easily update your freight rates
When you receive updated rates, you want to ensure you are using those new rates as soon as they are effective to avoid any billing discrepancies. If you have to manually update your rates or are relying on routing guides, this is a cumbersome process. There are already multiple reasons why routing guides are not best practice, but add updating your freight rates to the already existing list.
Now imagine manually updating your rates for every single carrier that you work with. Freightview connects to your carriers using an API connection. That means, as soon as your carriers update your rates in their system, you will see those updates automatically come into Freightview as well.
Bonus: this information is also crucial when it comes to adding a new carrier into your shipping mix. When sending out an RFP for a new carrier they will want to know your most utilized lanes. You can easily send over your shipping data. Adding in a new carrier is also incredibly easy with a platform with API connectivity.
Make price changes as painless as possible with a TMS like Freightview.