Choosing the Correct NMFC, Class, and Subclass
NMFC stands for National Motor Freight Classification Number.
Carriers rate and ship freight based on freight class. Freight classes and NMFC numbers are defined by the National Motor Freight Traffic Association (NMFTA). The NMFTA is responsible for maintaining industry-wide guidelines and an NMFC catalog for everyone to abide by.
When quoting on Freightview, entering the correct NMFC and freight class is crucial for obtaining an accurate rate. Some carriers in Freightview even have smart enough APIs to throw back an error if your NMFC class or subclass do not match the class you've selected.
You may see an error that looks like one of these:

Often times NMFC numbers will have subclasses based off of density that actually decide the class.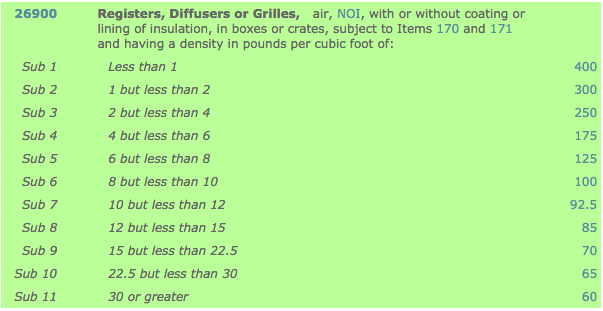 Having an understanding of how your commodity is classified is necessary to ensure things go smoothly for your shipments from rating to billing.
There are programs out there like ClassIT that allow you to search for your correct NMFC number.
If you are unsure about how to class your freight your carrier reps are always a good resource as well.
Rate, book, and track all of your shipments with Freightview.