Auditing in Freightview + Addition of Invoices
A few months back we released our auditing feature-- this allows you to truly complete your LTL lifecycle within Freightview.
To get to your auditing queue, you will simply click "Audit" on the top toolbar.

When you click audit you will be brought to your outstanding queue of invoices. From here you can enter your invoice number and quickly mark whether your quotes amount matches your invoiced amount.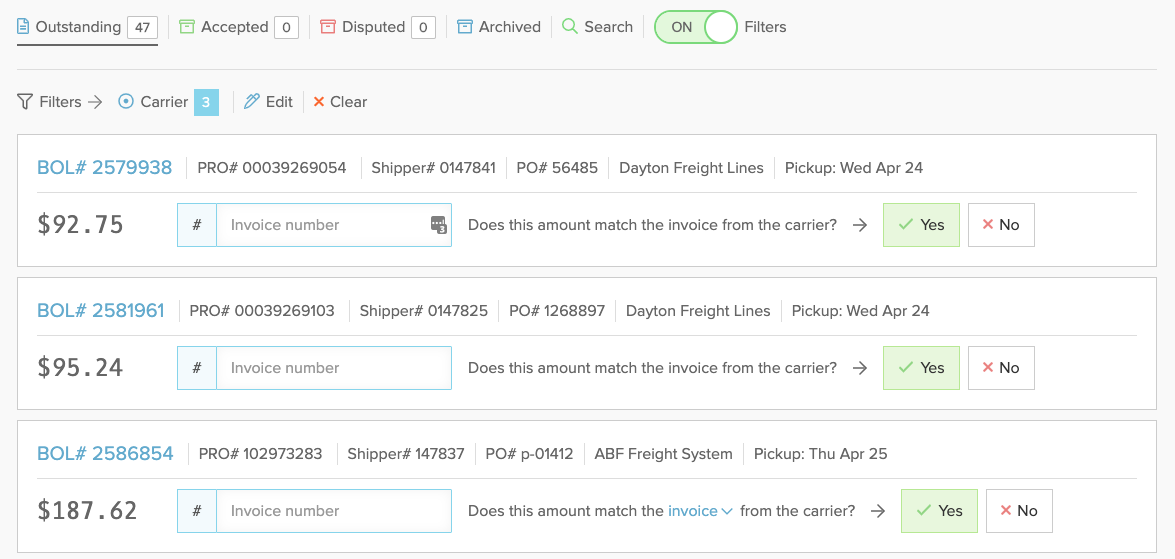 You may have your invoices sent to you electronically, or you still use snail mail. However, this is where Freightview can come in and make your life a little bit easier. We've started pulling in invoices for 13 carriers-- that number will continue to grow.
If a carrier invoice is available you will see a blue hyperlink where it says "invoice" like this:

You'll be able to view your invoice on the same screen for quick and easy comparison.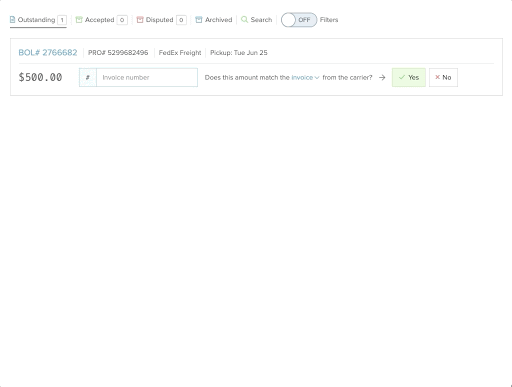 If you choose "Yes" that shipment will be moved automatically into your "Accepted" queue.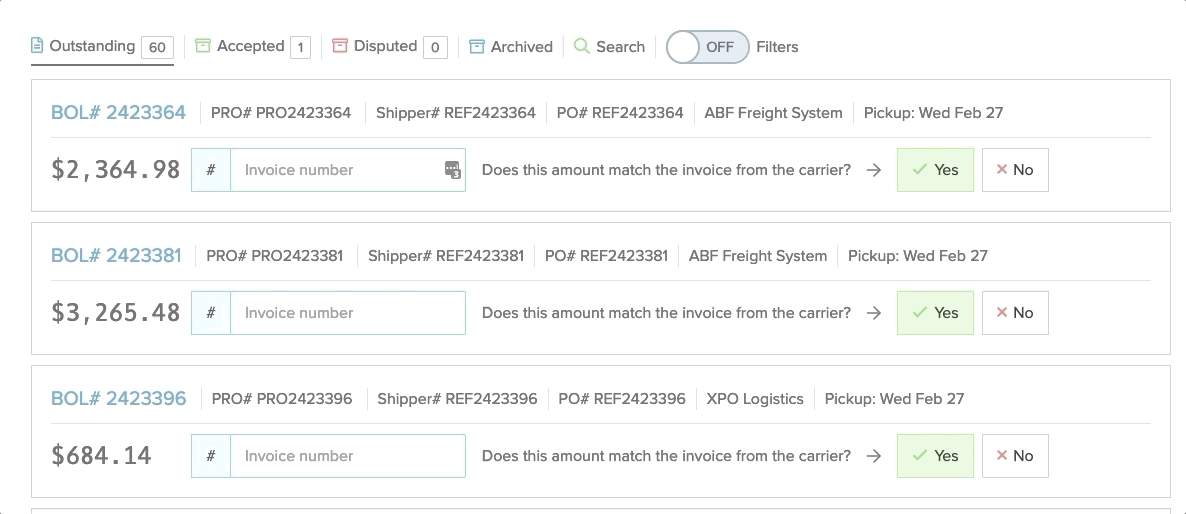 When you select "No," you will have an option to challenge the invoice and mark as disputed or to enter a different amount and mark as accepted.
If you choose to mark as disputed, you will see some more prompts.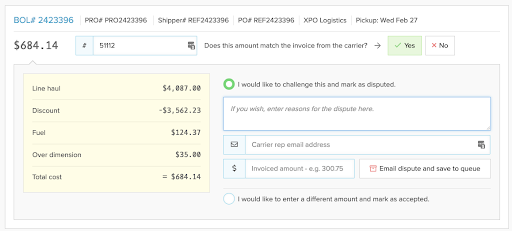 You will be asked for your reason of dispute, the email address of your carrier rep, and the actual amount invoiced. From there, you can send your dispute directly to the carrier. We will send them an email with the original quote and your dispute.
If you choose to enter a different amount and mark as accepted this is what you will see: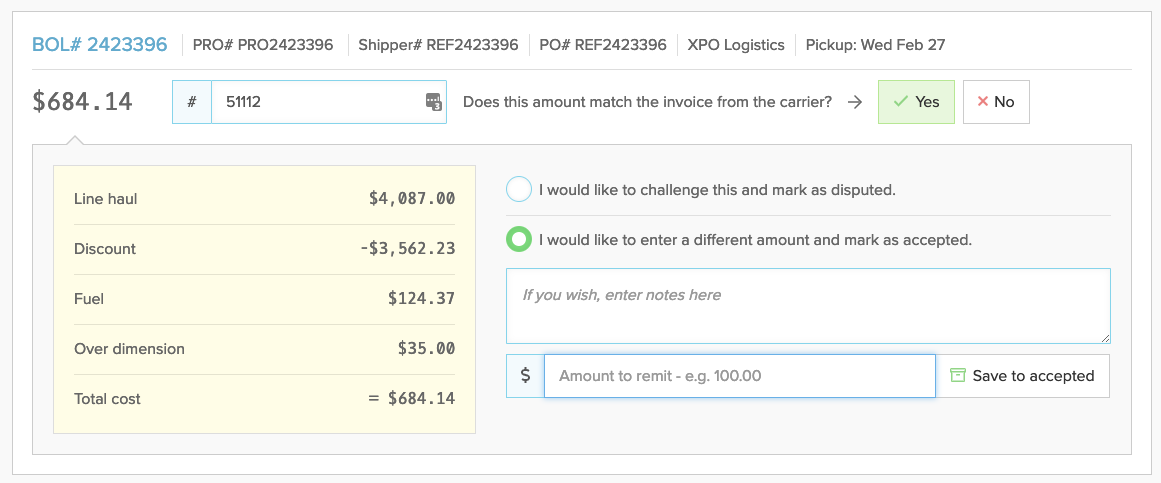 From here, you can add notes about why you're accepting a different amount than quoted, and enter the amount you're paying. For example, say you forgot to mark a lift gate on your quote but you received it on your bill and you know it is a valid charge. Once marked this would move into your accepted queue as well.
Once you have moved through your outstanding invoices there are 3 other queues: Accepted, Disputed, and Archived.

The accepted queue is all of the invoices you have marked as accepting the invoiced amount. From here you can archive and export. Exporting will allow you to send a report to your accounting department to process. Archiving will move invoices to their own queue.
You also have your disputed queue. An invoice in that queue will look like this: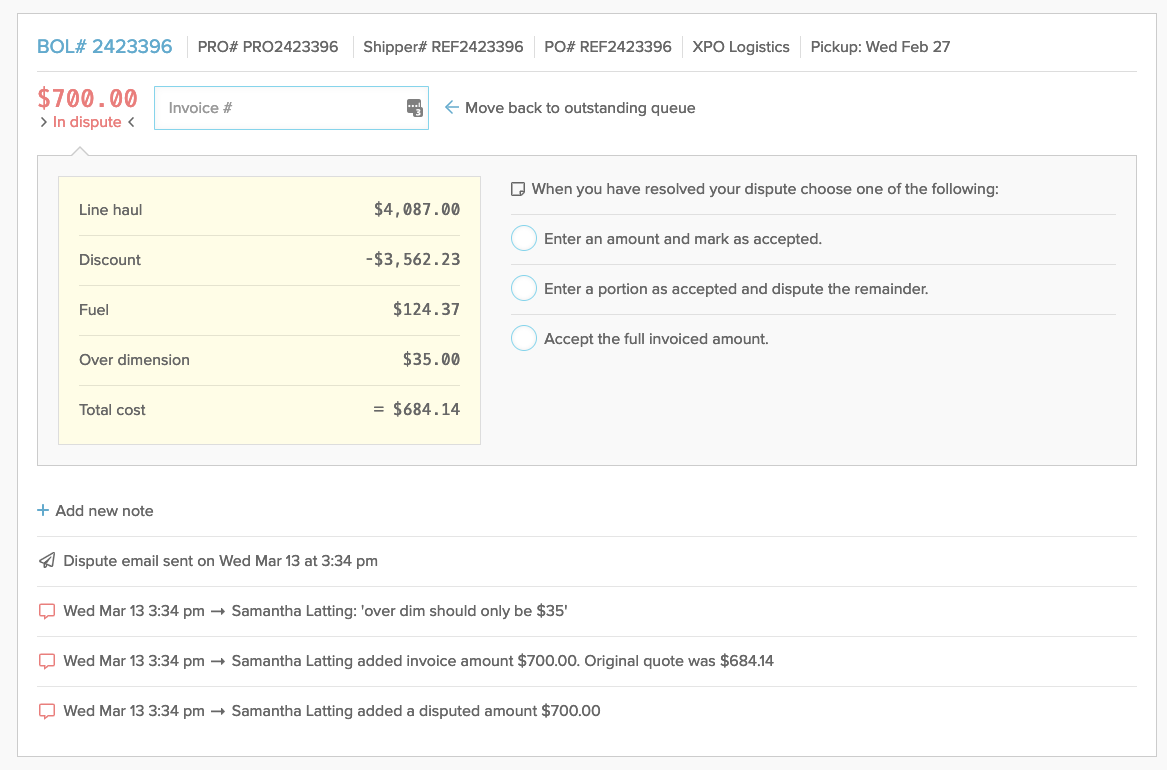 Obviously, since you are disputing the charges there is still some work left to be done on this invoice. Once your dispute has been resolved you can choose one of the three options above. You will also see all of the activity that has taken place for this invoice with the Freightview audit function.
We also give you the ability to filter your invoices. You will simply use the filters radio button.

Toggling this one will give you the option to filter by direction, carrier, tag, or account location.
Quote, book, track, audit and analyze of all your freight in one place. Sign upfor a free trial of Freightview.