Announcing Spot Quoting With Freightview
Since our inception, Freightview has been focused on connecting you to your negotiated rates with your carriers. We've always tried to think differently about how shippers can execute shipments and the tools they need to better manage their carrier relationships.
Our single largest piece of feedback we've heard over the last 3 years building Freightview is that shippers want to be able to execute other modes of shipping with the same simple process we've built for less-than-truckload (LTL) shipping.
After talking to a number of our customers, big and small, about the challenges they have with shipping, it was apparent that getting pricing for Volume LTL or Truckload (TL) shipments and then arranging the shipment was still a manual process for most shippers. This is especially true when that pricing is based on the spot market, and not necessarily a pre-negotiated contract.
Today, we're announcing Spot Quoting with Freightview, a brand new Freightview product that brings the magic of Freightview to a new mode of shipping.
We've re-thought the process of getting market-based pricing, which has usually meant managing email lists and responses in Outlook. And sometimes, getting on the phone to get a quote and then keeping track of the responses on paper.
We followed five main guidelines when designing this new product:
Work with as many carriers and brokers as possible.
Don't disrupt existing shipper relationships with carriers or brokers.
Incorporate Spot Quoting into our existing product.
Include tools to better understand and improve carrier relationships.
Make it awesome.
Work with as many carriers and brokers as possible
We wanted Spot Quoting with Freightview to be extremely flexible for our shippers and we didn't want shippers to spend a lot of time entering details about your carriers to set them up.
All you have to do is add your existing email list that you send spot quotes to in Freightview and we'll figure out the rest. You can get on with your day and send that quote request: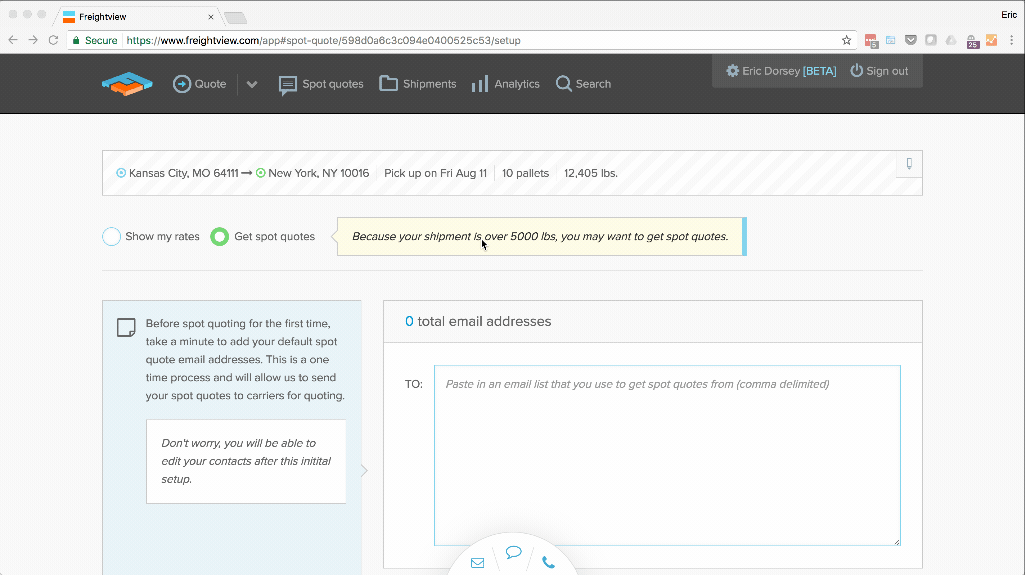 Don't disrupt existing shipper relationships with carriers or brokers
We don't want to get in the way of your carrier and broker relationships. Most Spot Quoting tools on the market today send an email and all the person that receives it can do is enter quote information into an outdated webpage.
Carriers and brokers can input quote information directly into Freightview. We took a more modern approach with our carrier portal which creates a number of benefits, but it can also cause some limitations.
Not all carriers allow their employees to open external links in emails and sometimes it's just easier to respond to an email. When that happens, we'll attach the response to the spot quote in Freightview and forward it on to you. We'll attach any replies from you in Freightview as well.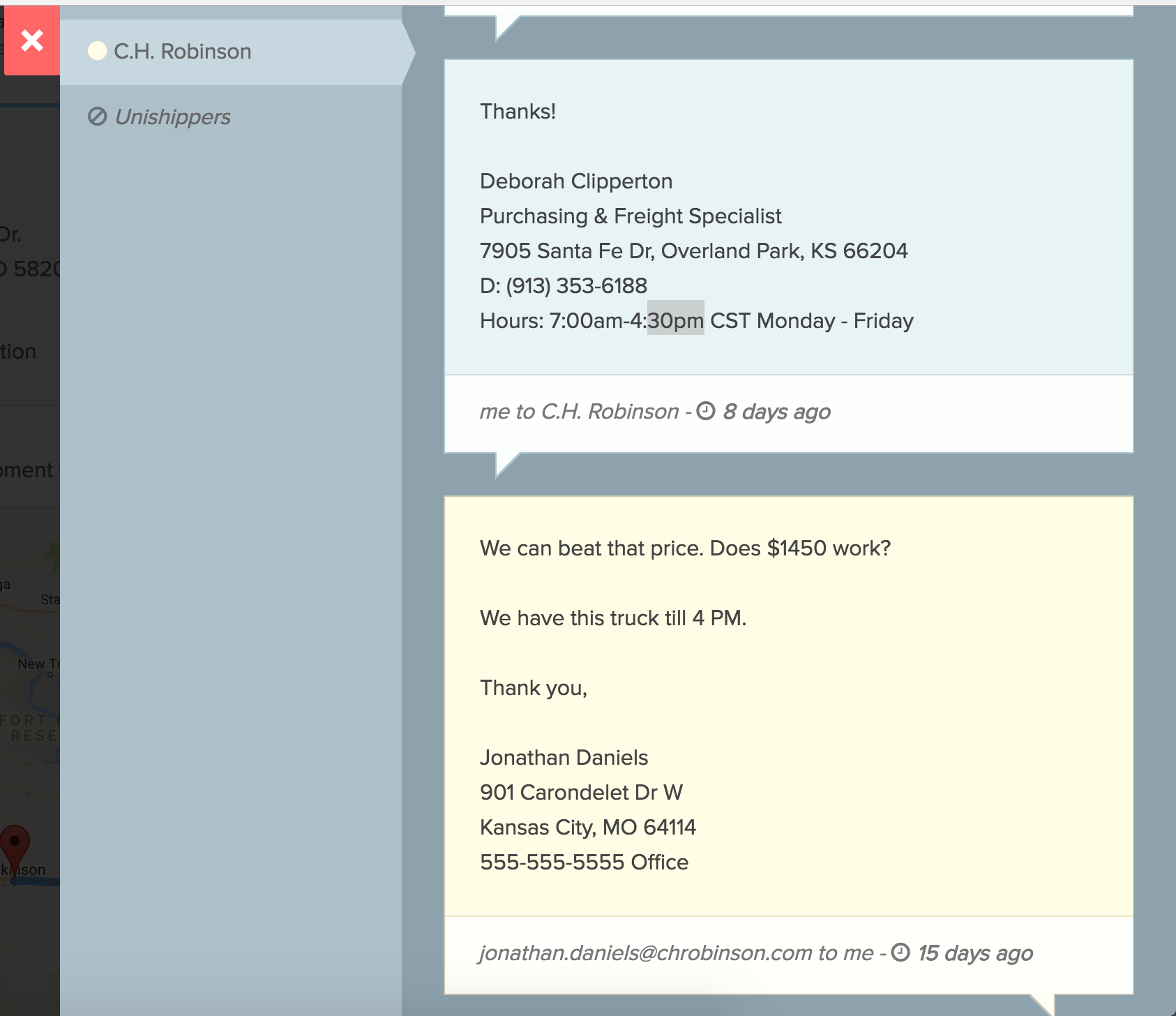 We think the ability to have those conversations as a way to negotiate, clarify, and maintain your carrier and broker relationships is still a very important part of getting market rates.
This allows us to build an archive of your correspondence that can be easily referred back to in the future for any specific shipment.
Incorporate Spot Quoting into our existing product
Spot Quoting needed to work seamlessly with the rest of Freightview. One of the most important components is the ability for shippers to see their spot quotes side-by-side with their negotiated rates.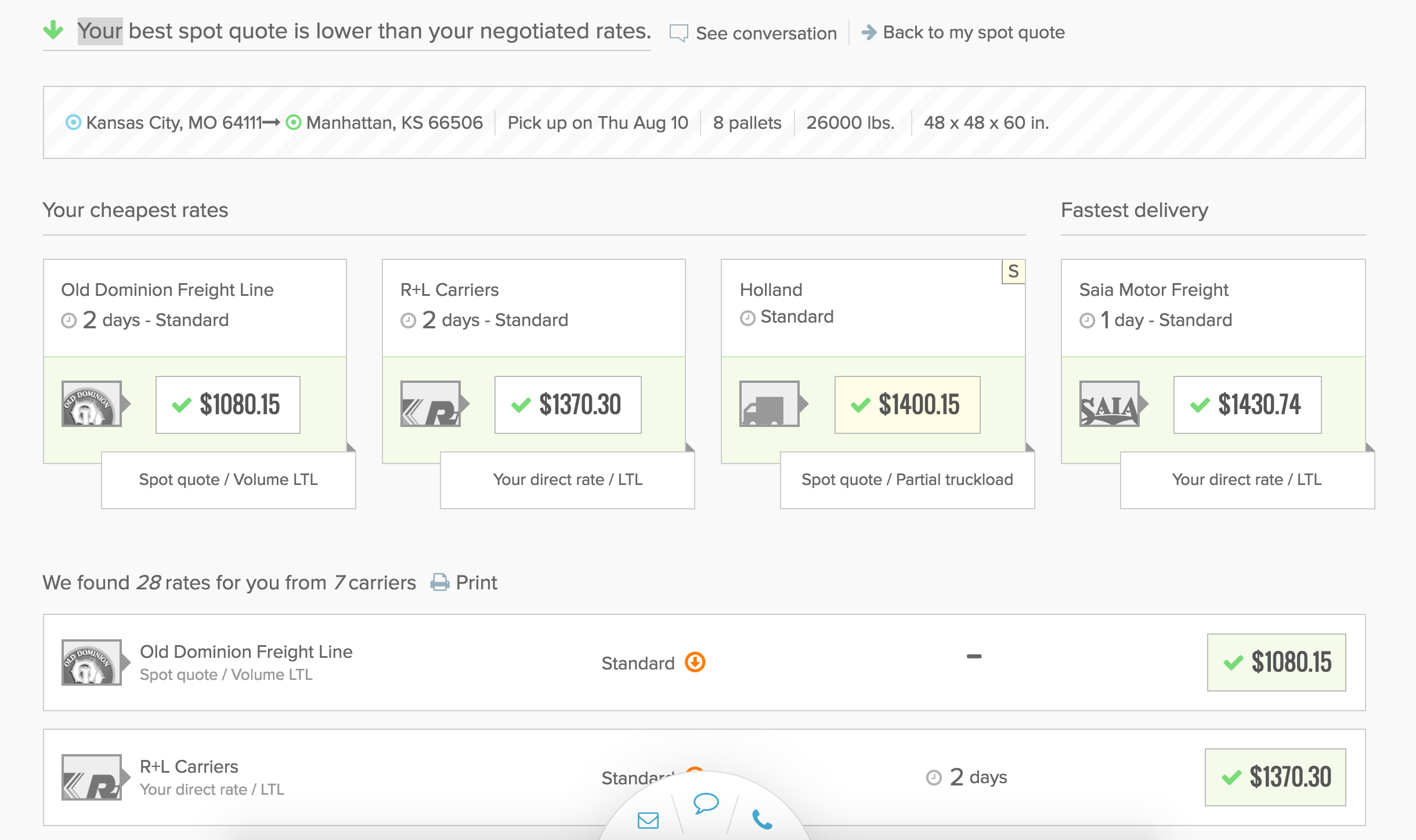 Spot quotes are also automatically included in all of your existing analytics.

This also means that everyone on your Freightview account can interact with these Spot Quotes. If Deborah is out sick tomorrow, anyone can cover her with very little training.
Include tools to better understand and improve carrier relationships
By incorporating the messaging and asking carriers and brokers to quote inside Freightview, we are able to give shippers insights into how carriers are responding and how long it takes to get responses from carriers.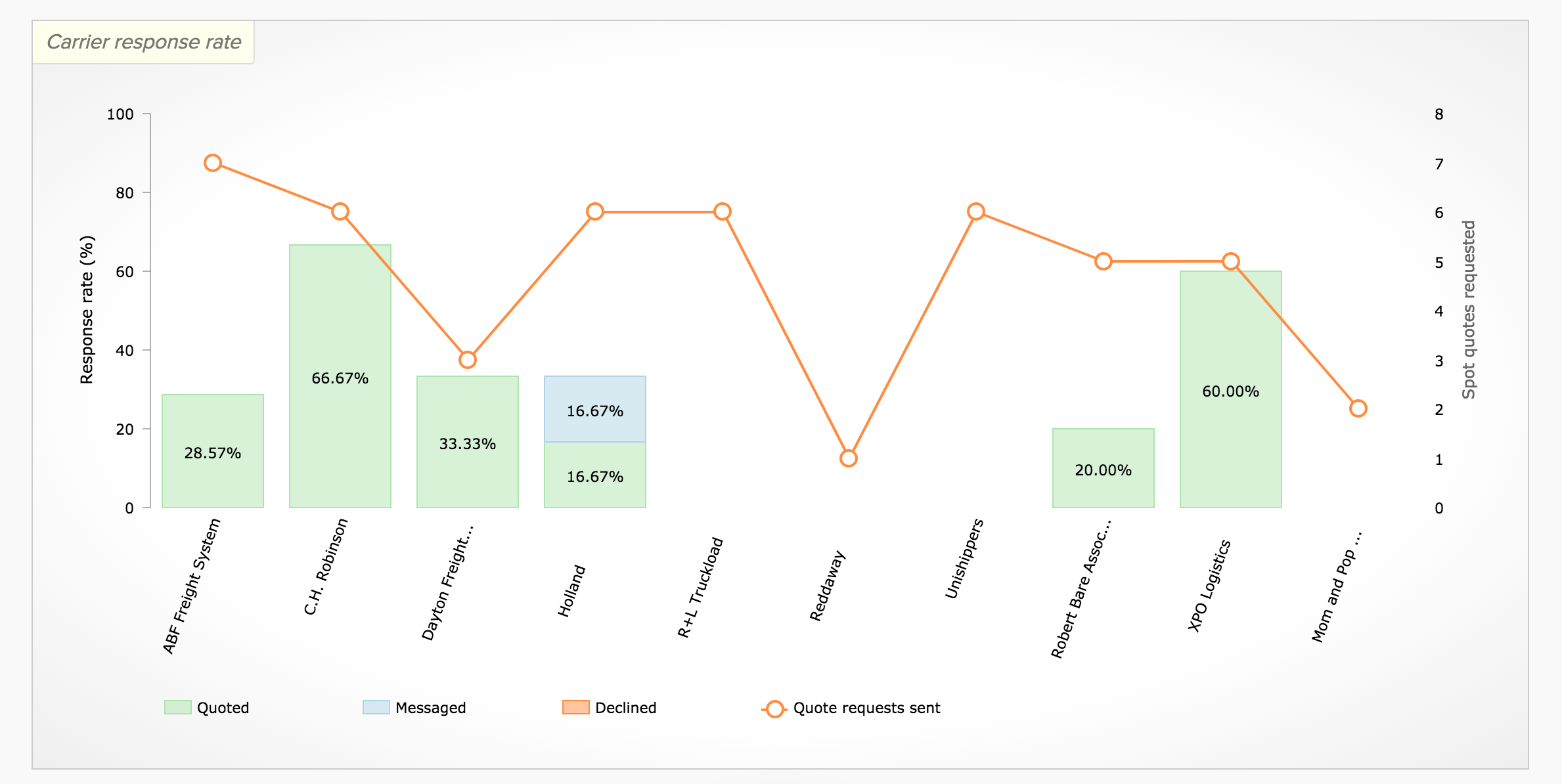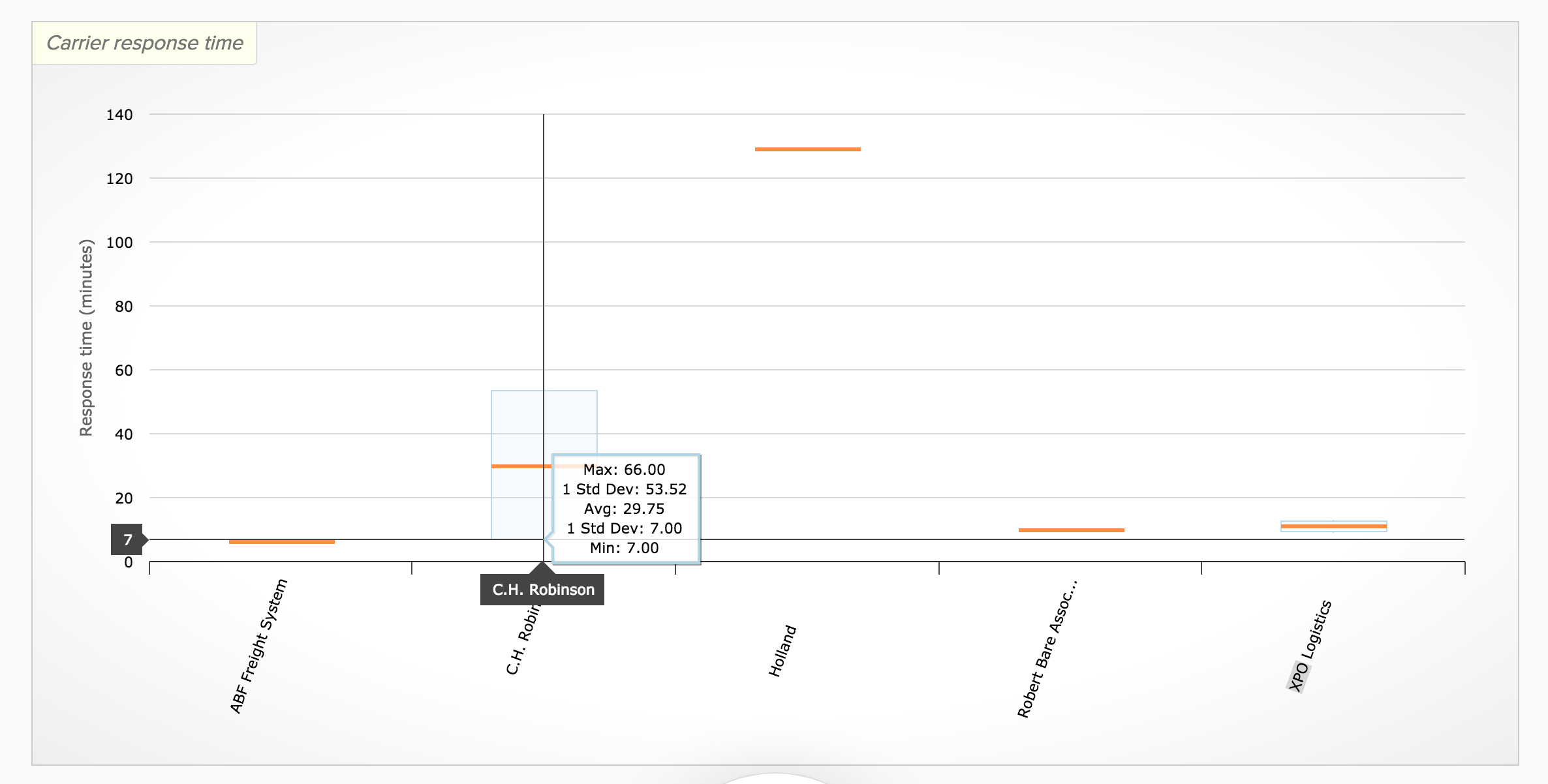 This kind of data was previously inaccessible to most shippers because it would require them to manually comb through Outlook and compile it. We're pretty sure you have much better things to do.
Make it awesome
We think we've managed to bring the simplicity you're used to with Freightview to this new mode of shipping. At every step of the way, we've tried to challenge the way "we've always done it," and tried to re-think the process from the ground up. We think the result is something awesome and we hope you do too.
More to come
Our group of beta testers that sent feedback and input along the way have been phenomenal in helping us get this far, but Spot Quoting with Freightview is far from done. We have many more ideas on how to make it even better.
Just like anything we build, we'll continue to improve Spot Quoting with your feedback over the coming weeks, months, and years.
For a limited time, we are offering Spot Quoting with Freightview for $49/month. This price will be locked-in as long as you keep your subscription active.
We chose to charge for this new product in order to align our interests in this new product with yours. If it's not worth it, that's a useful feedback for us, and we'll strive to make it better. We might be biased, but we think it's a steal. :) It's also worth noting this definitely does not mean we'll be charging for every feature we release in the future. In fact, I can't wait to show you the new features we are getting ready to roll out to everyone who uses Freightview.
Drop us an email or schedule a demo now to try Spot Quoting with Freightview today.