How To Add & Remove Spot Quote Contacts
Our spot quoting tool has been available in Freightview since 2017, and has grown and improved in the time since. One of those enhancements is our spot quote groups.
You can create as many customizable groups as you may need. You can always make changes when necessary. We will keep a master list of all of your contacts as well.
This is where your master list of all of your spot contacts will live. You can add and remove contacts, with ease, at anytime. Let's walk through it.
First you'll want to navigate to your settings page. You'll just click on your name in the top right corner of Freightview.
From here you will choose "spot quote groups" from the menu. You must be a full access user to see this option.
This will bring up any groups you've created, as well as your "All contacts" list.

This is where you'll add, remove, or edit any carrier contacts. If you want to make any of these changes you will click the pencil icon on the right side. This will open a text box.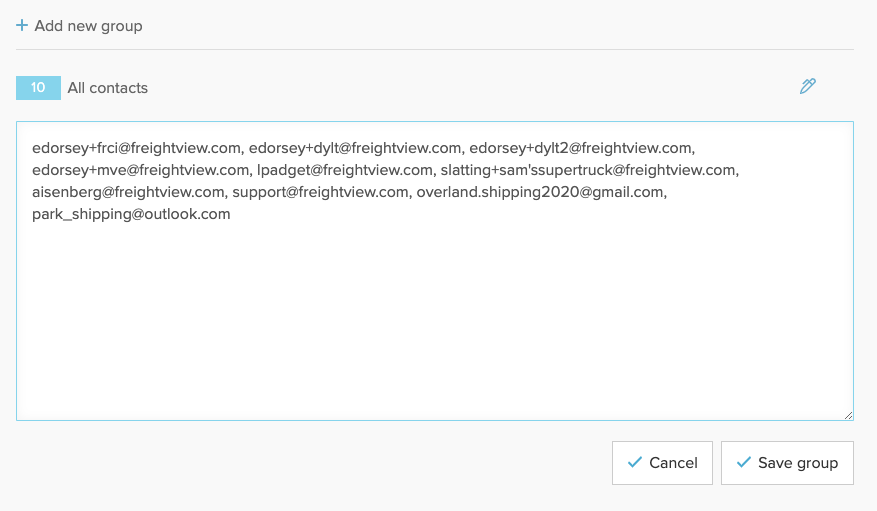 To add new contacts, simply seperate by a comma. To remove, simply delete the email address from the box. Once you've made the changes you need, click 'Save group' and your updates will be made.
If you delete a user from "All contacts" it will remove them from any groups you have created as well.
Do you need to replace an existing spot quote contact?
You have a new sales rep with one of your chosen carriers and you need to replace the contact email in Freightview. Simple. You just find the contact you need to remove within your list, and remove them. Then enter the new email, and click 'Save group.'
Freightview will associate the new contact with the correct carrier automatically.
Did you realize in the middle of a quote you needed to add a new carrier contact?
We've made that simple, too. If you're on the quote screen, and want to add another email contact, you will first hit the "Edit" button, which you can see here.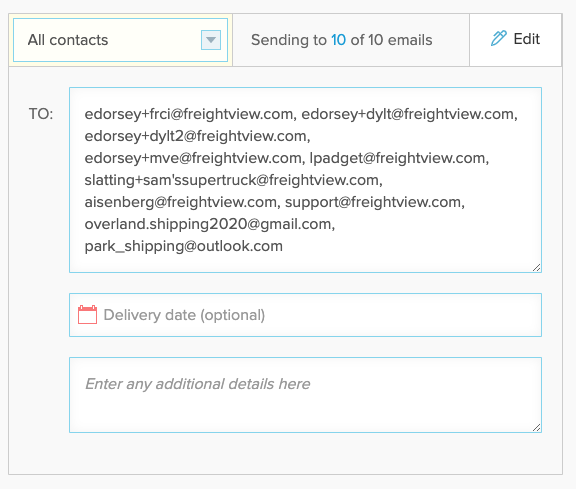 This will open a slider that shows all of your selected contacts. It also includes a text box where you can add a new contact. Add as many as you need-- just seperate using a comma, then click "Add to group."
Not utilizing our spot quoting tool yet? Check out a demo here.